Student Ambassador: Amanda Korff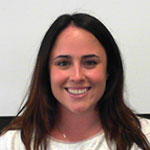 Amanda Korff
Student Ambassador, Clinical Psychology PsyD
| | |
| --- | --- |
| Hometown | Massachusetts |
| College | New York University |
| Program | Clinical Psychology PsyD |
| Concentration | Children and Families of Adversity and Resilience (CFAR) |
| Class of | 2022 |
Hi there, prospective students! I'm glad to know that you are consider William James College for your doctoral training. Let me tell you a bit about me and my experience…
My name is Amanda Korff and I am a doctoral student in the Clinical Psychology PsyD program. I am currently a second-year student in the Children & Families of Adversity & Resilience (CFAR) concentration. I am originally from Newton, MA, but moved to NYC to attend New York University for my undergraduate studies. As an undergrad, I studied Communications and Spanish language. It wasn't until after college that I realized how interested I was in psychology as a whole. After college, I spent time volunteering at an East Harlem Charter School and traveled to Cape Town, South Africa to work at a battered women's shelter. I loved my volunteer opportunities, but had to put that on hold once I found a full-time job at a marketing agency. After a few years in the marketing world, I wanted to get back to doing something meaningful for people. It was as simple as that – I went back to get my Post-Bacc, and the rest is history.
Once I realized what I wanted to do, it became my mission to find the program that would be the best fit for me. William James College's concentrations excited me, but it was their interview day that got me hooked. I couldn't get over how welcoming everyone was. The faculty was so warm, and the students genuinely enjoyed their experiences. I left that day knowing that this was the program I had to attend, and now that I'm in it, I'm even more confident that I made the right choice.
Since day one, William James College has made everyone feel as though they're "at home." Aside from its close-knit community, WJC provides its students with the resources and practicum opportunities to excel in the field. Each student is encouraged to find his/her niche by exploring various orientations and working with different populations. I entered the program wanting to do trauma work with adolescents and was able to secure practicum sites that continue to advance my knowledge of that population. I am fortunate enough to say that my practicum sites have given me exactly what I wanted – exposure and learning opportunities in the field.
Taking the plunge, and committing to a program is a scary process, but when you find the right fit, it is so worth it. My advice for you is to ask a lot of questions. Don't be afraid to put yourself out there and make those connections. This community wants to build you! It's a huge endeavor, but so rewarding.
Please feel free to contact me with any questions or comments (especially if you are making a career change!) I am more than happy to help in any way that I can. It's such an important decision, and I want you to be as happy about it as I am. Good luck!