Student Ambassador: Cecilia Brennan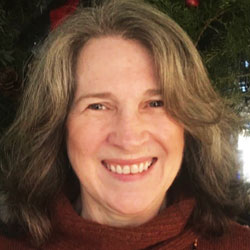 Cecilia Brennan
Student Ambassador, Clinical Mental Health Counseling MA
Hello, prospective students! I am in the master's in clinical mental health counseling program, General Track at William James College, graduating in 2023.
I am originally from New Jersey and moved to Massachusetts a few years ago. I attended Rowan University many years ago where I received a BA in psychology. My 30 + year professional background was in Corporate Human Resources. I made the decision to change careers to Clinical Mental Health Counseling. I chose WJC not only because of its strong mission of promoting inclusion and social justice, but also for how open and welcoming everyone was during the admissions process. I truly felt valued and encouraged. Returning to school after 30 years was quite intimidating, but WJC provides such support and genuine caring about their students. I am impressed with the quality of the curriculum and faculty here. I am experiencing firsthand how the curriculum is practically applied in my field placement.
I started at WJC in the spring of 2020, and I am a strong proponent of the January start/2.5 year track for completing this degree. Starting in January gave me ample time to find my footing in an academic setting without the additional pressure of a field placement. I also had time to find a field placement that fit my interests and location.
While my first two semesters took place via ZOOM, that did not deter the strong relationships I developed with my fellow students and faculty. The small class sizes whether via ZOOM or in person foster a sense of collaboration and engagement. I also take advantage of the many professional development opportunities that WJC offers.
I am so pleased with my selection of William James for my graduate program. If you have any questions about WJC, my path, or anything at all, please feel free to reach out.