Student Ambassador: Colleen Rooney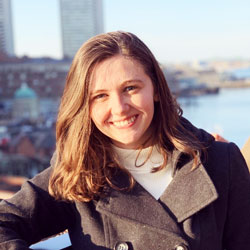 Colleen Rooney
Student Ambassador, Clinical Psychology PsyD
Welcome prospective students! My name is Colleen Rooney, and I am a doctoral student in the Clinical Psychology PsyD program. I'm originally from Grafton Massachusetts, and I graduated from Boston University my psychology degree in 2018.
After graduating, I was unsure of what my next step would be, so I met with a representative on the William James admissions team to learn about the school and the possibilities that it offered. Although I had debated taking some time to work in the field or in research, I knew upon visiting the school, speaking with students and faculty, and shadowing a class that William James was the right place for me.
A few things that drew me to William James were the passionate professors, the ability to explore numerous aspects of psychology throughout my time here, and its commitment to serving the underserved. I liked the close-knit community that it fostered and felt invigorated to be surrounded by people who were passionate about helping others. It was important to me to get hands-on clinical experience in my first year, and WJC offered that. I also appreciated that unlike some programs, I could try new things throughout my time and would not be committed to a specific clinical or research area. This has given me the space to explore and to find what really excites me—right now, that is my research on weight stigma and disordered eating.
I am involved on campus as a tutor for the Academic Resource Center (ARC), as a teaching assistant for classes on research and the treatment of substance use disorders, as a student mentor, and previously as a member of the Veterans' Experiential Learning Group. I found that having open and honest conversations with veteran students about their experiences helped me to be more thoughtful and culturally-competent in my work with veterans at VA Boston.
My career interests vary from providing psychotherapy, administering psychological assessments, and teaching—all three experiences that I have been fortunate to have in my training thus far. I have taken a generalist approach to my training, which has allowed me to work with individuals across the lifespan with various diagnoses in community mental health, VA hospital, and private practice settings. This generalist training has helped me to find the things that excite me while also preparing me to be a well-rounded clinician.
My advice is to take advantage of everything William James has to offer. Whether that be joining a new club, building relationships with professors and classmates, or attending guest lectures, there are many ways to immerse yourself in the community and to find your niche.
Please feel free to reach out to me if you have any questions about the school or my experience here. I am so pleased with my decision to attend William James and am very grateful for the experiences that it has afforded me. I wish you the best of luck in making your decision!