Student Ambassador: Elisa Huerta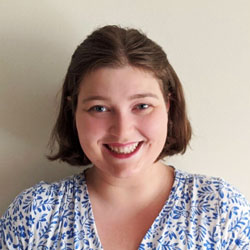 Elisa Huerta
Student Ambassador, School Psychology MA/CAGS
Hi, my name is Elisa Huerta. I grew up splitting my time between Queens, NYC and Spain. I moved to New England in the spring of 2020. I am a MA/CAGS student in the School Psychology Program at William James College. I graduated from Union College in 2015 with a Bachelor of Science in Neuroscience. After graduation, I spent a year teaching English in La Mancha, Spain. I decided to move back to New York and became a high school biology teacher for four years. While I loved being a teacher, I saw that my students had very specific needs that I was not able to address or support. I did some research and found School Psychology was the perfect combination of working in a school with students, while also being an educational and mental health professional.
I knew my husband and I wanted to move to the Boston area, so I researched all the schools in the area. As soon as I stepped into William James College for Open House, I knew it was the best place for me. The faculty are all warm and welcoming, and the school community places an enormous emphasis on social justice and instilling cultural awareness into the students. I also loved knowing that William James put students into schools immediately, because I learn best when applying theories to real world situations.
In addition to being a part of the school psychology program, I am completing an emphasis in the Latino Mental Health program, I am an interpreter for the Brenner Center, and I am the School Psychology Department ACE (Academic Councils Engaging Students) for my cohort. As the ACE, I work as the link between my cohort and faculty members to address questions and ensure our success within the school. Thanks to these experiences, I have been able to meet students and faculty from different programs and expand my knowledge. Everyone within the community is welcoming and ready to collaborate.
My professional interests include serving underrepresented communities, particularly immigrant students and English language learners. I am incredibly interested in providing mental health supports to students who may not have access to resources outside of school. My first language is Spanish, and I speak it both at home and in my practicum site.
My best advice for new students is to come to William James College with unbridled curiosity. Ask questions often and whenever you are unsure. Understand that you will make mistakes – we're all learning and absorbing new information. The goal is to continue to improve throughout your time at school, not to be perfect on day one. Additionally, immerse yourself in your school from the beginning. Build relationships with not only your supervisor, but teachers, staff members, and all your students. Finally, make sure to work on your self-care. It's easy in graduate school to become hyper focused on everything you need to do and read, but that will lead to burn out and exhaustion quickly. Find things that work for you – reading a book, watching a show, playing an instrument- and make time for them during the week.
Feel free to reach out to me with any questions, concerns, or curiosities you may have about William James College or School Psychology specifically. Welcome!