Student Ambassador: Emily Seiple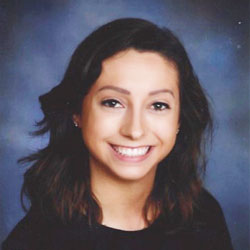 Emily Seiple
Student Ambassador, School Psychology MA/CAGS
Hello, my name is Emily Seiple, and I am currently enrolled in the School Psychology MA/CAGS program here at William James College. I received my bachelor's degree from Colgate University in Hamilton, NY with a major in Educational Studies and a minor in Sociology. Prior to attending William James College, I completed a year of service with City Year Boston.
One of the reasons I chose the School Psychology MA/CAGS program at William James College was because of the welcoming and collaborative environment. During my undergraduate time, I benefited greatly from the strong connections I formed with my peers in my major and the professors. It helped me grow both intellectually and professionally. William James College provides that same environment. There is a strong sense of community at William James College. The faculty truly want you to succeed and will support you in the ways you need. They push you to explore your interests and to grow professionally.
In addition to the environment, I also chose William James College because of the training experience it provides. Unlike many programs, William James College has students start their fieldwork in their first year, rather than the second. This allows students to have three years of hands-on experience, working in different school settings with different aged students, truly preparing them for their work ahead.
One piece of advice I have for new students is to take advantage of opportunities faculty provide. Over this past year, I had the opportunity to work with one professor and a small group of fellow students to create and analyze a survey to aid a nearby school district on how to improve their therapeutic program. I also worked with another professor and student to submit a proposal to present at the National Association of School Psychologists (NASP) Annual Convention on conducting a remote Functional Behavioral Assessment (FBA). These are two unique opportunities that have allowed me to gain more experience outside of classes and fieldwork.
Please feel free to reach out to me with any questions you may have about William James College or the School Psychology MA/CAGS program. I am happy to answer!