Student Ambassador: Jonathan Klayman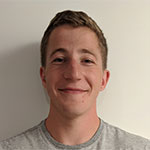 Jonathan Klayman
Student Ambassador, School Psychology MA/CAGS
| | |
| --- | --- |
| Hometown | Massachusetts |
| College | University of Connecticut, BS Cognitive Science |
| Program | School Psychology MA/CAGS |
| Class of | 2023 |
Hello, my name is Jonathan Klayman, but you can call me Jon. I currently live in both North Andover and Methuen, MA, spending time with both of my parents. I am a MA/CAGS student in the School Psychology Program at William James College. I graduated from the University of Connecticut in 2018 with a Bachelor of Science degree in Cognitive Science. Upon graduating, I wasn't set on a career, so I took some time to explore various paths. I began the program in the fall of 2020. Before coming to William James College, I worked as an Assistant Teacher at the Walker School in Needham. Prior to working at the Walker School, I worked as a Program Assistant for the Andover Youth Services. This is where I discovered my passion for helping the youth. The job was in the recreational setting and we ran all sorts of programs, from sports to woodworking. I knew I wanted to help kids, but wanted to be able to do it in a more professional and knowledgeable way. This is why I decided to pursue the career of a school psychologist.
When I made the decision to go back to school, I researched programs in the Massachusetts area and continually found out more about William James College. From looking at their website and doing research on the web, I knew that William James College was a strong program and offered many opportunities to get practical experience right away. William James College set itself apart by getting the first year students into schools right off the bat. Something I missed out on in undergraduate was the chance for an internship, so I valued getting real world experience as part of my program.
The program itself was quite impressive, so I wanted to learn more about the culture here. I attended several Open House events. Here, I could feel right away the warm and welcoming community that William James offers. The faculty are dedicated individuals who care about our success, as well as how we are doing outside of school. Our cohort has grown closer throughout the year and we are always there for each other, offering support.
This year, I have been a part of several leadership opportunities, including serving on the student panel for the Open House and Interview Day. I'm looking forward to learning about counseling in the upcoming school year and being able to run counseling sessions at my practicum site.
For any incoming student, I would tell them several things. One, you deserve to be here and you have shown that by getting accepted into the program. Once you're here, don't hesitate to form connections with both your faculty and classmates. Both parties are going to be more than willing to help you along the way. Lastly, it pays to be organized. You might feel overwhelmed at the beginning of the school year, but if you plan everything out and stay on top of your assignments, it will be manageable. Make sure to make some time for yourself, as well.
Please feel free to reach out to me with any questions, concerns, or curiosities you may have about William James College or the program specifically. Welcome!