Student Ambassador: Khristy Thompson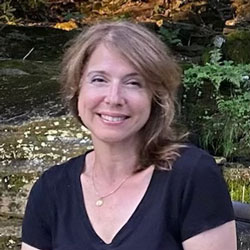 Khristy Thompson
Student Ambassador, Clinical Mental Health Counseling MA
Dear Prospective Students,
I am thrilled to have the opportunity to share my journey to William James College with you. I am a change of career student on the 2.5-year track. Originally from Pennsylvania, I moved to Massachusetts and was an active researcher and biology instructor. During that time I was diagnosed with cancer and began a path towards finding a career where I could help counsel patients with health issues. A career transition at times felt like an overwhelming decision. William James College was mentioned by several individuals as a wonderful environment for an excellent education in clinical mental health counseling and a supportive atmosphere for change of career students. I have found both to be completely true.
My time at WJC began via Zoom due to Covid-19 restrictions. Classes became an amazing space for discussion, and we developed a bond that has resulted in a support system that fosters learning and understanding. I became a member of the First-Generation Student Group through Zoom and discovered yet another group that provided support and academic advice.
My professional career interests are focused on eating disorders and developing programs to facilitate the transition from treatment to healing for cancer survivors. Based on my interests and desire to use the knowledge I gained from my previous career in biology I selected the health and behavior medicine emphasis. The coursework and additional offerings such as the Lunch Time Seminar Series have provided opportunities to develop my career goals and prepared me for my practicum placement.
My advice to new students is to connect with the faculty and students and be an active participate in the learning process. Take advantage of the resources that are available through the Academic Resource Center and attend seminars on topics that are new to you. Share your ideas with your fellow classmates and create spaces for working together.
Best wishes on your applications to graduate school! Please feel free to reach out with any questions.