Student Ambassador: Kim Cassel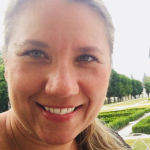 Kim Cassel
Student Ambassador, School Psychology MA/CAGS
Hi! I am from Sydney, Australia and I have been living in Boston for the past year and a half. I did my undergraduate in education and I have worked in international education for the past 20 years. During my years in education I worked in Australia, Japan, Hong Kong and the U.K. I completed a Masters of Counseling through Monash University in Hong Kong 3 years ago.
I am in the MA/CAGS School Psychology program due to graduate in 2022. I chose the program at William James College because I was really attracted to the location of the program in Newton and the fact that it was a smaller college dedicated to psychology. Having a smaller specialized school means that there is a strong presence of the college in the psychological community and College Professors are still active participants in the field. As a student at William James College, there are a lot of opportunities to connect with and participate with the School Psychology community while still being a student, so currently I am one of the college representatives to the Massachusetts School Psychology Association (MSPA).
Professionally, I am interested in assessment tools for young children. Since William James College focuses on field experience, I have had the opportunity to learn and administer testing already in my first year. The focus on experiential education is another plus of doing the program at William James College for me.
For students entering their first year at William James College, I would recommend connecting with the community at school. There are a lot of people aside from your professors who are there to help you succeed. Ask lots of questions to your professors because they will be more than happy to answer them. Since you will be in a tight cohort of peers, get to know them and build a community of future peers and friends.