Student Ambassador: Kirolos Boulos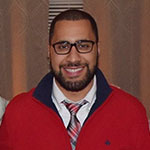 Kirolos Boulos
Student Ambassador, Clinical Psychology PsyD
My name is Kirolos Boulos, and I am currently a second-year doctoral student in the William James Clinical Psychology PsyD program. I was born in Asyut, Egypt and grew up in Chelmsford, Massachusetts. I obtained my bachelor's degree from the University of Massachusetts-Amherst. "GO UMASS." During my time there, I studied psychology on the neuroscience track.
Throughout my life, I have always been passionate about helping people. I was always interested in studying human behavior and trying to understand why people do what they do. When I first started at UMass, I thought I wanted to be a pediatrician. I figured I could help kids, keep them healthy, and make a lot of money doing it. As I went through school, I realized a career as a pediatrician wouldn't be fulfilling for me. It was then that I discovered Clinical Psychology. I wanted a career that would tap into my empathetic disposition; a career in which I could build meaningful relationships with my patients, and in turn, hopefully, have a positive influence on their well-being. At UMass, I was a Research Assistant in a lab that studied negotiation techniques in interpersonal relationships. I was also a founding father of the Kappa Sigma Fraternity. As a brother, I was on many committees and served as the Philanthropy Chair and Public Relations Chair. I also volunteered at a health center for the elderly, at a hospice clinic, and at my church.
I chose William James College (WJC) because of the Experiential Education model. This model allows students to attend classes and receive closely-supervised clinical training early on in the program. It provides the students the ability to use what they learn in the classroom and immediately be able to apply it to clinical work. Coming from someone who did not obtain any clinical experience prior to starting school, I understand that it might be intimidating to see your first patient right away, however, WJC does not leave you out there all alone. They provide support through various courses, supervisors both on and off-site, as well as faculty advisors. Upon graduating, I will have obtained thousands of hours of training which will help to make me more marketable to prospective employers (at least I hope so.)
WJC is committed to informing cultural sensitivity to their students. Being an immigrant, I can appreciate the strive to try to embrace and learn from those who are different from myself.
I encourage you to explore and program and reach out! Contact faculty members and students, as these connections will become valuable in aiding you in selecting a program that satisfies your needs. The William James community is here to help answer any questions you may have.