Student Ambassador: LaNisha Allen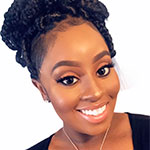 LaNisha Allen
Student Ambassador, Clinical Psychology PsyD
Greetings, my name is LaNisha Allen. I am a first-generation advanced standing college student in the Clinical Psychology Doctoral (PsyD) program at William James College. I was born and raised in Boston, Massachusetts, and Connecticut, and attended undergraduate school in New York City. I am a Mental Health Clinician at a community health center, STAR Fellow in the Clinical Psychology Department, Black Mental Health Graduate Academy Administrator, an affiliate of the CMGMH and the first-generation student group, advocate, and social justice activist, studying Children and Families of Adversity & Resilience with a concentration in African and Caribbean Mental Health. I hold a master's degree in Mental Health Counseling and a bachelor's degree in Applied Psychology and Business Administration. My professional interest consists of implementing psychotherapy and psychoeducation into innovative solutions for complex trauma and mental health concerns challenging marginalized communities. My career objectives are devoted to increasing societal and systemic transformation through education, leadership, mentorship, healthcare treatment, and public policy.
I chose William James College because the community appeared slight but comfortable, and it displayed a wide range of professional development opportunities that I could envision in my future. William James College's core values align with my short-term goals of completing a master's degree and the long-term objective of obtaining a doctoral degree. I was committed to challenging myself to be a well versed and competent clinician to serve racial and ethnic minorities. As a pioneering psychology institution, William James College dedicates efforts to educate and challenge its students to provide quality care to diverse communities. Attending WJC has been an exceptional fit for me.
As a new student, my advice for a productive and positive first year is for you to breathe, practice self-compassion, seek mentorship, utilize support from the academic resource center, remember we are all imposters, connect with your cohort and other students, and remind yourself that you have the power to make anything happen! Be well!
"I have discovered in life that there are ways of getting almost anywhere you want to go, if you really want to go."
―Langston Hughes