Student Ambassador: Lawrence Chan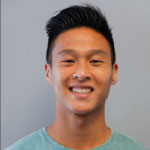 Lawrence Chan
Student Ambassador, Clinical Psychology PsyD
| | |
| --- | --- |
| Hometown | Massachusetts |
| College | Wheaton College |
| Program | Clinical Psychology PsyD |
| Concentration | Neuropsychology |
| Class of | 2022 |
Welcome prospective WJC applicants!
My name is Lawrence Chan and I was born and raised in Lincoln, Rhode Island. I attended Wheaton College, MA and earned my bachelor's degree in Psychology (surprising, I know). From the foundational knowledge I obtained as an undergraduate, I knew I was interested in going into the helping field for my career. However, I was unsure whether I wanted to enroll in a master's or doctoral level program. Regardless, I also was aware I needed to beef up my résumé. In order to gain a competitive edge in the application process, I spent two years conducting clinical drug trial research at Boston Children's Hospital's Genetics/Genomics department and worked closely with a Clinical Neuropsychologist who introduced me to the world of neuropsychological assessment. This sparked my initial interest in the brain-behavior relationship. I have always been one to find genuine satisfaction in helping others, and spending the majority of my time working with research participants who suffered from metabolic disorders solidified my path for pursuing clinical work as opposed to research.
William James College came on my radar as I began the application process and aligned with my goals of becoming a clinical psychologist. As soon as I walked through the front doors, I immediately felt the warmth and strong sense of community. The students, faculty, and staff all foster a friendly environment and greet each other with kind smiles. Aside from the wonderful professors who are experts in their respective areas, the field education team does a fantastic job matching students with state-of-the-art training sites. They are extremely supportive and really tailor the experience to each individual student. For instance, I was interested in gaining experience in Alzheimer's Disease clinical research and was able to create a new training site seamlessly at Boston University.
As I round the corner and prepare to apply for my final year-long internship, I can say with confidence the education and field training I have received during my time at WJC has prepared me well and will make me a competitive candidate.
Please don't hesitate to contact me with any questions you may have during your application process. I'd be happy to help!
Sincerely,
Lawrence