Student Ambassador: Lori DiBlasi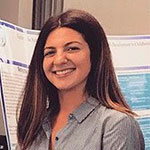 Lori DiBlasi
Student Ambassador, Clinical Psychology PsyD
| | |
| --- | --- |
| Hometown | Connecticut |
| College | Southern Connecticut State University |
| Program | Clinical Psychology PsyD |
| Concentration | Neuropsychology |
| Class of | 2023 |
Greetings prospective applicants!
I'm originally from Stratford, Connecticut, and I attended Southern Connecticut State University for both my bachelor's degree in psychology (with a concentration in research) and my master's degree in psychology. I'm currently a third-year PsyD student in the Neuropsychology concentration. I chose William James College because it afforded me the opportunity to pursue my passion for neuropsychology, as well as provide amazing field practicum opportunities in an area lush with clinical psychology opportunities.
My goal is to become a culturally competent clinical neuropsychologist. My professional interests include working with the pediatric and developmental population, though I have a newfound appreciation for lifespan work. My current research interests include emotional dysregulation in adults diagnosed with ADHD and how these symptoms impact resilience in this population.
My advice for prospective students is to make use of the concentrations, faculty and field placement opportunities here at WJC, because they will set you up with future connections when you're out in the field as a professional. It is also super important to maintain self-care when entering a graduate program. Be sure to think about a self-care routine that you can make time for in your weekly schedule!