Student Ambassador: Molly Church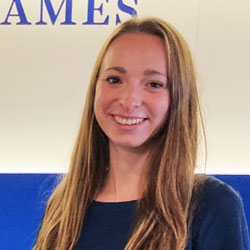 Molly Church
Student Ambassador, Clinical Psychology PsyD
Hello prospective William James College students!
My name is Molly Church, and I am a student in the Clinical Psychology PsyD program. I am from a small town near Rochester, New York. I received my Bachelor's degree in Psychology from the University of Pittsburgh and a Master's degree from Tufts University. Prior to coming to William James, I worked in the field at an eating disorders clinic. My previous experience highlighted the importance of hands-on clinical work and training for my development as a psychologist. William James College stood out from other doctoral programs because of the focus on experiential training and beginning clinical work in the first year. The clinical training opportunities that the William James College field education department has available in the greater Boston area provide excellent training and clinical experiences. My practicum experiences while at William James have included sites at McLean Hospital and have received excellent training from those practicums. During my doctoral training at William James, I have had a generalist focus while in my coursework and overtime developed a specific focus on CBT theories and clinical interventions, particularly for anxiety disorders. I appreciated the coursework William James offers in a variety of theoretical orientations to have the opportunity to learn different frameworks and become a well-rounded psychologist. I have been involved with several research opportunities at William James College, including research with the Critical Thinking Quality Scale lab and the Death Anxiety Research Team. My professional career interests include specializing in anxiety, specifically the co-morbidity between OCD and eating disorders. This interest developed from my practicum experiences and doctoral project during my time at William James College.
My advice to future William James College students is to reach out to and build relationships with professors. The professors at William James College are not only incredibly knowledgeable but also accessible and eager to help students further their development and training as psychologists. If you have any questions, please don't hesitate to reach out to me via email.