Student Ambassador: Sarah Aronson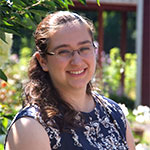 Sarah Aronson
Student Ambassador, School Psychology MA/CAGS
My name is Sarah Aronson and I am from Northfield, MA. I previously attended Smith College, where I earned my Masters of Education of the Deaf and my BA in Education & Child Study and Spanish. I chose the School Psychology MA/CAGS program at William James College because of the warm and welcoming environment. I learned from my previous graduate experience that having faculty that are passionate about what they do, enjoy working together, and are willing to put in the time to truly support students can make a large difference in student success. After attending open houses, meeting with faculty, and attending interview day, I knew I had found all of those qualities in the faculty at William James College.
In addition to being a part of the School Psychology MA/CAGS program, I am a Serving the Underserved Fellow in the Center for Multicultural and Global Mental Health, I am completing a concentration in Latinx Mental Health, and I am the student assistant to the Lucero Latino Mental Health Program. Through these aspects of my experience at William James College I have been able to meet students and faculty from across the different programs and gain a wider perspective on the field of Psychology.
In my first year in the program, my practicum placement was at Franklin Elementary School in Newton, MA, and next year I look forward to my practicum experience at Keefe Technical School, in Framingham, MA. Having these practicum opportunities from the first day of the program has really helped me take what I am learning in the classroom and see how it applies to my practice both now and in the future.
As someone who worked for several years in schools as an auditory oral teacher of the deaf, it was important to me to find a program that would respect the experiences I brought to my practice as well as continue to expand my understanding of schools and the role of the school psychologist. I have appreciated how my professors have encouraged me to pursue my interest in the mental health needs of Deaf and Hard of Hearing individuals while also making sure that I gain the necessary knowledge and competencies to support all students.
For new students starting out on their graduate school journey, my advice is to lean on your support systems. Your cohort is often going through the same challenges you are and when you work together, everyone benefits. Your professors and teaching assistants are also always willing to meet with you and help you build your understanding, because their goal is to help you to be the best practitioner that you can be.
Best,
Sarah