Student Ambassador: Taylor Pestritto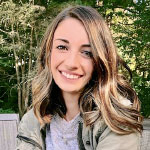 Taylor Pestritto
Student Ambassador, Clinical Psychology PsyD
| | |
| --- | --- |
| Hometown | Connecticut |
| College | University of Massachusetts Amherst |
| Program | Clinical Psychology PsyD |
| Concentration | Geropsychology |
| Class of | 2023 |
Hello prospective students—it is so wonderful that you are considering William James College as a place to further your career in psychology! I am so pleased with my decision to attend WJC and hope that my words will help you determine if this may be the school for you as well.
My name is Taylor Pestritto and I am a doctoral student in the Clinical Psychology PsyD program. I grew up in Torrington, Connecticut and attended the University of Massachusetts Amherst, where I received my Bachelor of Arts degree in psychology with minors in sociology and criminal justice. At UMass, I was involved in a service-learning project where I worked with older adults in a long-term care facility. I also completed an internship in a group home for older adults. Both of these experiences were instrumental in furthering my passion in psychology, particularly in working with older adults.
At William James College, I am in the geropsychology concentration with a supplemental focus in health psychology. I hope to pursue careers in academia as well as in a medical setting that utilizes an integrated care model. It has been immensely rewarding to be involved and take advantage of a number of campus activities at WJC. I am a member of the Gero Volunteer Corp (GVC), the Rainbow Alliance, and have held work study positions in both the admissions and marketing departments. I am also a teaching assistant for a course entitled "Social Bases of Behavior."
I was initially drawn to William James College because of its location and field education experience, which go hand in hand. At William James, you are afforded the opportunity to work in the field starting day one, which enables you to apply what you are learning in the classroom to the field and vice versa. Being situated in the Greater Boston Area means that there is a myriad of opportunities in regard to both practicum experiences and professional development. Moreover, the faculty here are brilliant, diverse, and dedicated to their students—I have been so grateful for the mentorship and support I have received!
My advice is to let go of your fears; have the confidence to take a leap, whether it be in your decision to apply, your decision to attend, or once you enroll as a student. A doctoral program in psychology will challenge you to go outside of your comfort zone and you should absolutely embrace that and be fearless throughout this process.
I am more than happy to help serve as a resource for you and welcome any questions you may have on this journey!