Online - Clinical Mental Health Counseling Master of Arts (MA) program 
Graduates of the MA in Clinical Mental Health Counseling program online will have fulfilled all the educational and pre-master's field experience requirements to qualify for the license as a mental health counselor (LMHC) in Massachusetts and in New England. For other states eligibility, please contact the program director.
Clinical Mental Health Counselors provide invaluable assessment, psychotherapy and consultation services to individuals, groups, families, and systems. The field has a promising career outlook, and graduates of the William James College counseling programs have an excellent track record of achievement.
All applications who apply for the MA in Clinical Mental Health Counseling will be considered for a $5,000 scholarship.
---
Masters in Counseling - Online Program Overview
This program is available only for individuals living in the U.S. and territories. It prepares graduates to qualify to acquire the post-master's supervised experience that leads to the independent practice as a professional mental health counselor. Graduates of this program will have fulfilled all educational and pre-master's field experience requirements to qualify for independent licensure in the state of Massachusetts and in New England as a Mental Health Counselor (LMHC).
The program can be completed in 3 years for August entry students, or in 2.5 years for January entry students. The degree completion requires 60 credits of course work, a practicum (minimum 360 hours), an internship (minimum 600 hours), and the successful passing of a comprehensive examination. There are no elective courses in this program, but a standard, comprehensive curriculum that will prepare you for clinical practice.
Although the primary goal is to prepare master's level counselors, this program will also provide students with some of the necessary foundations for pursuing further graduate study, including the doctoral programs at William James College.
---
Course Delivery Methods
Students participating in this program will attend an online orientation prior to the start of classes. Most courses are delivered in an asynchronous manner, lasting 7 weeks each, but students will be required to attend a live first-time live Zoom meeting for each course with the instructor and their classmates. The instructor will be available for weekly office hours.
Practicum and Internship weekly clinical seminars, which provide 2-hour group supervision, will be taught live on Zoom for 15 weeks each in the fall and spring semesters concurrently with your clinical practice in the field.
There are two required residencies. The first one happens the summer before the beginning of practicum, and requires 2 weeks in person at William James College. During this residency most of the requirements for courses in diversity and group counseling are completed. The second residency takes place the summer prior to internship, and requires 4 days on campus, covering internship preparation. Please refer to the course sequences for more information about our program.
---
Counseling Program Philosophy
William James College integrates rigorous academic instruction with extensive field education and professional development assistance in the form of practicums and internships. We believe that the best learning comes from integrating classroom knowledge with hands-on experience. The curriculum provides for an understanding of theory, training, and practice of counseling. We emphasize the development of professionals who are committed to the ethical provisions of quality services to culturally diverse clients, agencies, and organizations.
---
Letter from the Counseling Program Director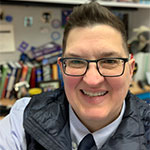 We are proud of our trajectory educating clinical mental health counselors (over 500 since 2009) and are very excited to offer our excellent program in an online format. Our graduates are well prepared and find jobs shortly after graduation. Our training has a solid reputation for being rigorous, while at the same time providing a holding environment where students receive personalized attention and mentoring.
We have an outstanding faculty that has been recognized for their integration of diversity into the curriculum, and their academic advising of our students and mentoring of our graduates. They bring their clinical and consulting experience into the classroom. Our experiential education model allows you to put into practice what you learn in the classroom, and to bring to the classroom what you learn in the field.
In a world where mental health services are increasingly needed, choosing this career means that you become an integral part of creating a better society. You will use your assessment and counseling skills to bring clarity to situations and to help others become empowered to change their own lives and the lives of others.
If you are the kind of person who wants to make a difference in the lives of others, who wants to learn about evidence-based and evidence-informed treatments in mental health, and who is willing to engage in self-exploration and increase your awareness of self and what surrounds you, this may be the program for you.
If you have any questions about our programs, please see below or contact me directly.
Sincerely,
Nilda M. Laboy, PsyD
Chair, Counseling and Behavioral Health Department
Director, MA in Clinical Mental Health Counseling programs (on-campus and online)
---
For More Information on Our Counseling Programs
Would you like to learn more about our counseling programs or the admissions process? Request information here and select the track that most interests you.
Want to hear more and have the opportunity for a live Q&A with faculty and staff? Sign up for the next webinar.
Prefer to talk to someone who's been there, done that? Contact one of our Student Ambassadors for the counseling program to get a student's views.
Our Counseling Department faculty and staff are available to answer your questions.