2011 Lucero Scholar: Brian Lieberman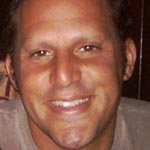 Brian Lieberman
2011 Lucero Scholar, Clinical Psychology PsyD
Born and raised in New Jersey. BA in Psychology from The University of Florida, Gainesville; Masters in ESL and Multicultural Education from New Jersey City University.
As a former teacher of Spanish and ESL in the New Jersey Public Schools, I decided to change directions in pursuit of a doctorate in Clinical Psychology. My search for a graduate program did not last long as I was immediately attracted to the opportunity to utilize my Spanish language skills in conjunction with clinical training and a future career as a psychologist. William James College recognizes the tremendous need for Spanish speaking, culturally competent practitioners to provide services to the most rapidly growing minority population in the country. In my first year at William James College, I am working at The Latino Health Institute, a community mental health clinic, providing services in both English and Spanish to clients who are dually-diagnosed with substance abuse and mental health disorders, along with victims of trauma. Although I am not a native Spanish speaker, I feel that my clients truly appreciate my ability to communicate with them in their native language. This dynamic in itself has been invaluable in creating strong therapeutic alliances.
Receiving the Lucero Scholarship at William James College is a tremendous honor. Although I was not fortunate to have met the late Dr. Cynthia Lucero, a graduate of William James College, in whose commemoration the scholarship is awarded, I am aware of the strong commitment she had to serving the Latino community. I aspire to continue her work during my graduate studies and beyond. The Latino Mental Health Program at William James College is giving me the platform to do so.
Entering Class of 2011
Graduated from Clinical PsyD program in 2015