Bob Hill, PsyD, Honored with Florence H. Lehrman Mintz Alumni Award
By Staff Report
May 15, 2017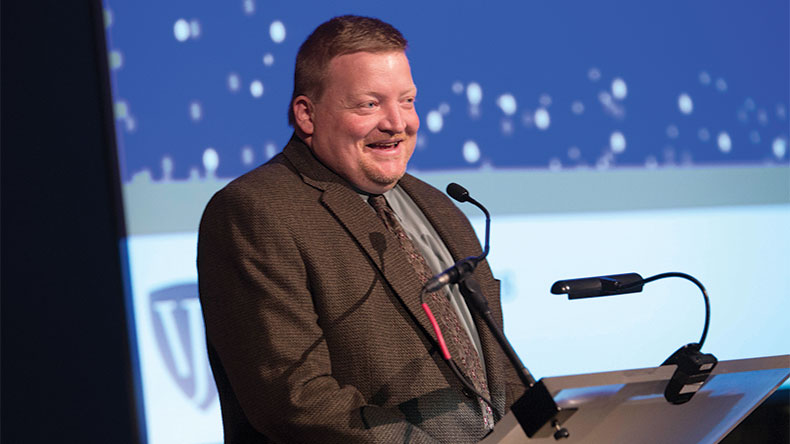 After 16 years of teaching, Bob Hill came to the Leadership Psychology PsyD Program to learn to make a broader impact on people struggling in society. As co-founder and senior coach at Match Beyond—a program to support students at College for America, which makes bachelor's and associate's degrees feasible for working adults—he's achieving that goal. For his efforts, William James College gave him its 2017 Florence H. Lerman Mintz Alumni Award.
Says President Nicholas Covino, "Through Match Beyond, Bob not only shows tremendous dedication to the students, but also a deep commitment to creating innovative programs that change the norm."
Match Beyond evolved from Hill's efforts to better support graduates of Match Charter Public High School, where he taught for 11 years, as they move on to college. The Boston-based Match High School primarily serves low-income students. Match Beyond, a partnership with Southern New Hampshire University, assists students in its online College for America Program, a flexibly scheduled, competency-based college program. Match High School and Match Beyond are divisions of Match Education, a foundation to support innovation in education.
Match Beyond provides tutoring, study space, computer access, meals, and career coaching, among other services. Hill says that this is the first community organization to pair with College for America for in-person coaching. "We help students emotionally, academically, and organizationally. We walk with them every step of the way."
Crediting his Leadership PsyD program, Hill says, "it enabled me to look at the world in a different light and see alternatives. It opened my mind to think about innovation and new ways to make a difference."
Topics/Tags
Follow William James College
Media Contact
Katie O'Hare
Senior Director of Marketing