Fall Update: Academics, Assets, Aspirations
The President's Corner
Dear Graduates and Friends of William James College:
As the weather begins to turn cool, and our students enter their third week of classes, I wanted to share some good news from Wells Avenue.
Academics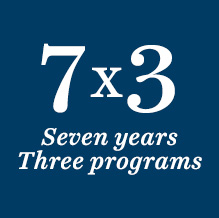 The primary mission of William James College is to educate culturally-sensitive, self-aware skilled professionals to meet the community's needs and make a difference. As such, we aim to match and to exceed the expectations of accrediting bodies. The accreditation process of the American Psychological Association (APA) is quite rigorous (e.g., Self-Study, Site Visit, Peer Review, Committee Evaluation) with five years as the typical award. This summer, two of our programs were awarded the maximum accreditation of seven years. The School Psychology PsyD program achieved this on its first try and the innovative William James College Consortium Internship received the same. Earlier this year, the Clinical program did as well…for the second time in its history.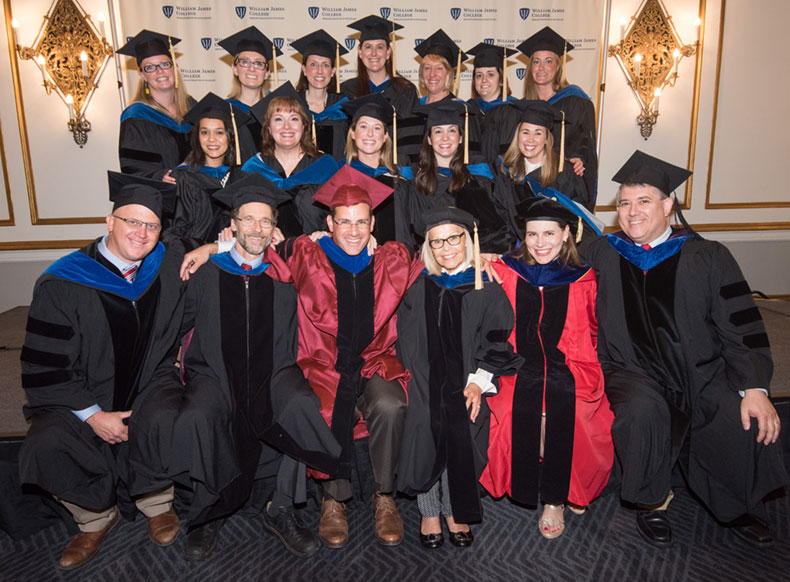 The Counseling Department is pursuing accreditation from the Council for Accreditation of Counseling and Related Educational Programs (CACREP). This group is well-established elsewhere in the country and it is emerging as the national leader.
In the absence of a peer review group, the Organizational Leadership Psychology Department contracted with several scholars to provide a similar review of its academic programs and was highly praised for its curricula and concept. Exceptional work by the faculty, staff, supervisors and students brings recognition to our programs and talented professionals to the field.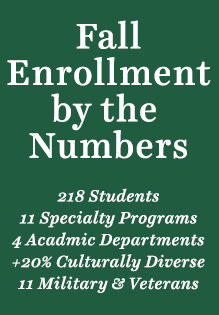 Several years ago, a group of faculty and supervisors took aim at the 'APA Internship Crisis' and created the William James Consortium. The Field Education Department professionals approached several rigorous training sites to create an APA-approved, part-time, local, consortium internship. The college has 52 students working in 17 sites in this consortium. This spring, the William James College Consortium received a HRSA grant of $1M to extend this program to medical sites. This is the second HRSA grant ($713,000 came in 2014 for a total of $1,729,569) for a program that is becoming a national model.
This fall, 218 new students enrolled in eleven specialty programs within four academic departments. The Deans of Students and Faculty created an extensive orientation and an 'Academic Boot Camp' to prepare them for their new adventure. In keeping with the college's commitment to increase access to mental health care and diversity in leadership, this class is more than 20% culturally diverse and it includes 11 military and Veterans. The college's growth still invites applicants with strong interpersonal skills, sensibility and investment in others, but its national reach is attracting students with stronger academic credentials as measured by Graduate Record Exams, Admissions Ratings, a 78% APPIC Internship Match Rate and EPPP scores much better than peer institutions.

Assets
The purchase of One Wells Avenue in January brought many advantages. Natural light fills most classrooms; there are numerous retreat spaces for conferences and private discussion; and the grounds invite students to read, converse and meditate. This permanent home brings financial stability to the college and a dignified space to welcome community partners.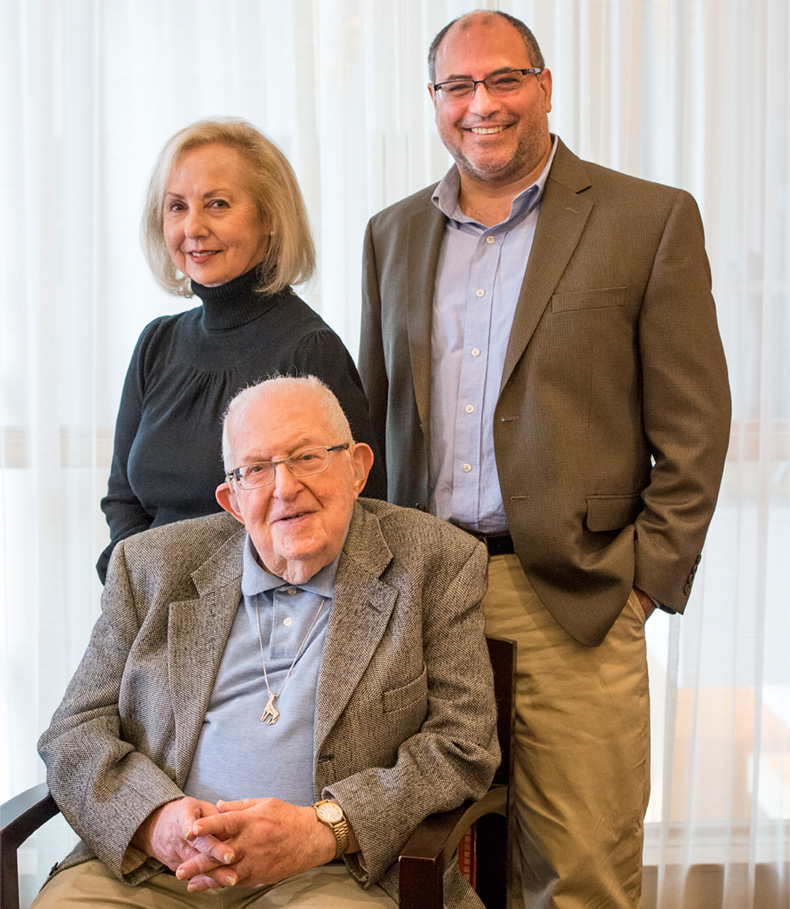 William James faculty now has academic rank. The college continues with a priority to maintain a practitioner faculty. However, a system of faculty rank acknowledges the scholarship and professional activities of current instructors and it is attractive to clinical researchers who plan to make a career in higher education. Major gifts from two donor families currently support the clinical research of new faculty members on psychotherapy outcome and in geriatrics.
The complexity of Opioid Addiction was addressed at the William James College Forum with another upcoming on Telementalhealth. The college will host a discussion of deinstitutionalization and the care of those with major mental Illness featuring the DMH Commissioner, the Globe Spotlight team and other thought leaders. Again with donor support, Continuing Education at WJC is evolving to offer mental health skills and tools to teachers and pediatricians as well as extended programs for psychology professionals.

Aspirations
The most ignored problem in education and health care is the staggering number of children and adults with untreated mental illness.
Chronic medical illness accounts for 75% of the cost of health care and mental health adversely impacts about 20-30% of patients.
According to the American Academy of Pediatrics, four children in every classroom of twenty have a serious impediment to learning that challenges them, their teachers and their classmates.
Support from another donor family is creating a certificate program in School Climate.
An MSPCC-Boston Children's Hospital study reported that more than 60% of parents who wish to secure mental health care for a child cannot.
Surgeon General Satcher noted our wealth of child mental health research and the critical shortage of professionals.
WJC's PATHWAYS program is helping local high school students to graduate successfully and our CFAR, School Psychology, Counseling and Applied Behavior Analysis programs are training the next generation to meet this need.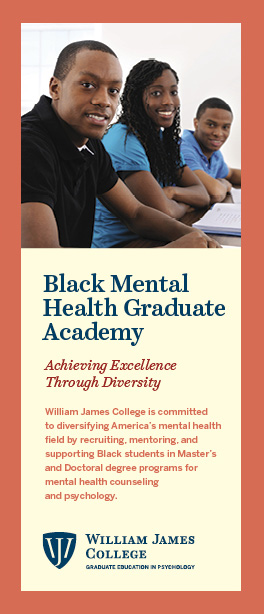 A few years ago, the Annapolis Coalition reported that mental health professionals were 90% non-Latino Caucasian with an astonishingly few who look and sound like half of our population. William James College continues to educate a self-aware, research-informed, field-experienced, skilled professional. Our Lucero Latino Mental Health Program is home to 50 Spanish-speaking future professionals. And, the new Black Mental Health Initiative will complement our Military Veterans Psychology and Children and Families of Adversity and Resilience programs to welcome diverse professionals into our profession and to meet the needs of our diverse country.
There is a lot going on at William James College. Thanks to the many of you who regularly support this work. Stop by, if you haven't seen our new home, and enjoy the positive energy.
Sincerely,
Nicholas Covino, PsyD
President