Student Life Programs Build Community
One of the ways in which the Dean of Students office works to build community at William James College is through social programming and events that complement the academic experience.  A calendar of upcoming events is available on the Dean of Students website, and the office's newly-created Twitter (WJC_DoS) and Facebook (WJC Dean of Students) pages also provide regular updates.
For these events, The Dean of Students office often collaborates with the many student-led organizations at the College. These organizations, which have varying focuses and missions, are open to all students and host events throughout the year. Here we highlight a few of the events and initiatives organized by student leadership this past fall.
The "I See You" Project
The "I See You" Project was presented in October in conjunction with National Suicide Prevention Awareness Month and launched at a Suicide Assessment and Prevention Training Program that was presented at the College. Organizers wrote positive affirmations and placed them in colorful envelopes which were hung on poster boards, then encouraged students to pick one as they felt the need. Adetutu Ajibose, MA, a Clinical PsyD student with a concentration in African and Caribbean Mental Health, called it "a very simple idea that we hope will have a lasting positive impact." 
"While we may not be able to address all the risk factors that may contribute to suicidal thoughts and attempts, there is something that we, WJC students could do. We could put a smile on someone's face, uplift someone's spirit and let them know that we see them in all their beauty, glory, uniqueness and determination," explained Ajibose in an email. "We can make a difference starting with our campus by creating a climate of appreciating and embracing one another with hopes that this form of giving becomes habitual and is extended beyond the walls of WJC."
Adetutu Ajibose is one of the co-leaders of the ALANAA, which stands for African American, Latino, Asian American/Pacific Islander, Native American/Native Alaskan, and Arab American. The group is dedicated to "celebrating the existing diversity at WJC, promoting greater diversity within the student body, and fostering connections between students whose interests include diversity, multiculturalism, and social justice," and has the goal "to bring together the students of color at WJC and those who want to celebrate diversity within WJC."
Dare to Speak…
ALANAA also participated in the organization of Dare to Speak…Dare to Be…Dare to Love, an annual event that that aims to create an open space for creativity and self-expression.
"The event encourages students of WJC and people in the community to freely express themselves through music, art, spoken word, poetry, dance and all other forms of art," said Ajibose. "In a world where there is so much negativity, it is important to create a space where people could speak about the injustice, where they can be themselves and express love to others through the reciprocal giving and receiving of talents and gifts."
Assistant Dean of Students Meridith Apfelbaum called the event, "a wonderful community building event that gives students and staff the opportunity to engage in artistic expression and reflect on the beauty and meaning of diversity."
The late-October event was a collaborative effort among student groups including ALANAA/Social Justice Student Coalition, the Dean of Students Office, CMGMH/Black Mental Health Graduate Academy, and the Expressive Arts Program. Apfelbaum explained that, at this year's event, students performed on the guitar, sang, played the drums, read poetry/spoken word, danced, shared photography, facilitated a communal poem, art project, and drum circle and actively reflected as a group on the meaning of diversity.
Samuel Kwame Dance, co-leader of ALANAA, said, "For the second year in a row, it was an honor to see and hear the William James College community and our guests SPEAK their truth; BE their authentic selves; and demonstrate their LOVE for diversity through creative expression. The night was filled with impactful moments that left guests feeling inspired, challenged, and intellectually stimulated. Words cannot capture the energy in the room."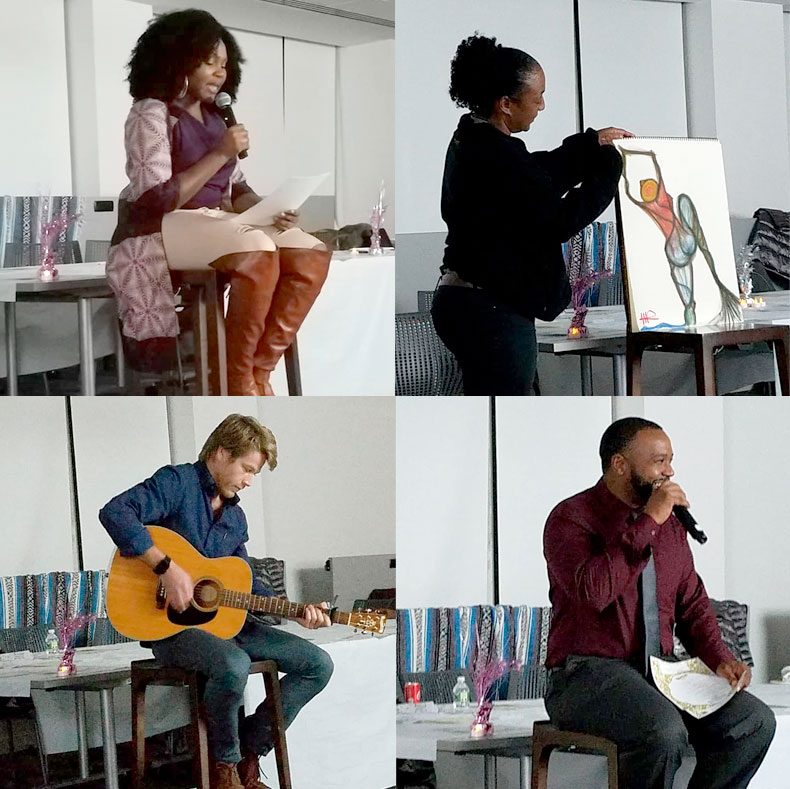 Transgender Awareness Week
Transgender Awareness Week is typically observed the second week of November leading up to Transgender Day of Remembrance (TDOR), which memorializes victims of transphobic violence. The William James College Rainbow Alliance presented a Transgender Awareness Week Information Table on November 14.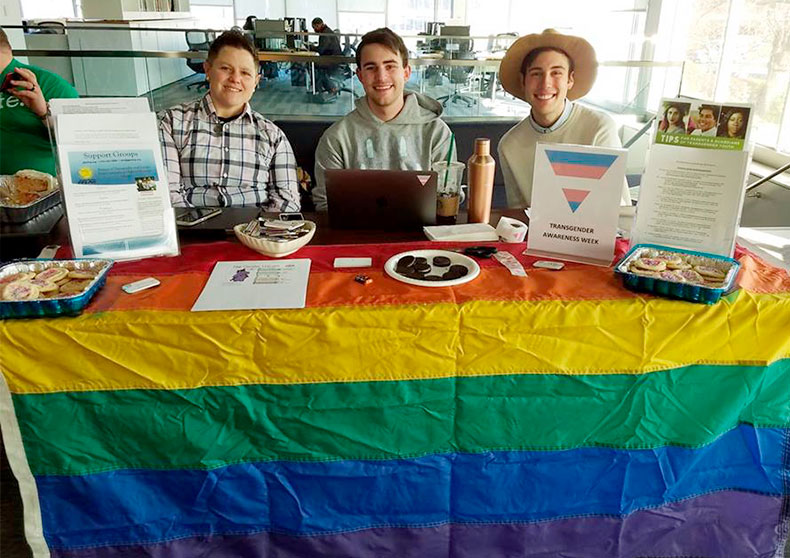 The Rainbow Alliance also sponsored a celebration on October 11 in honor of National Coming Out Day.