Faculty: Allyson Cherkasky, PhD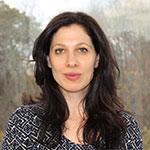 Allyson Cherkasky, PhD
Associate Professor, Counseling and Behavioral Health Department
Director, Health and Behavioral Medicine Area of Emphasis
| | | |
| --- | --- | --- |
| Degree | Major/Emphasis | Institution |
| PhD | Clinical Psychology | California School of Professional Psychology, Alameda (Alliant University) |
| BA | Psychology | Boston University |
Courses
Mental Health Counseling Internship I and II
Professional Issues and Ethics
Topics in Public Health
Eating Disorders
Special Topics in Eating Disorders
Capstone Seminar
Assessment and Appraisal
Advanced Topics in Clinical Health Psychology
---
Research and Practice Interests
Health Psychology
Behavioral medicine
Integrated behavioral health
Obesity/bariatric medicine
Eating disorders
Women's health
Public health
Healthcare disparities
---
Professional Licenses and Certifications
Licensed Psychologist and Certified Health Services Provider (Massachusetts)
---
Awards
Excellence in Teaching Award - 2012, Shared with the Counseling Psychology Department, Commencement Exercises, Massachusetts School of Professional Psychology
---
Publications and Presentations
Publications
Cherkasky, A. (2003). Menopause and Psychiatric Illness. In Slater L, Henderson Daniel J, and Banks, A (Eds). The Complete Guide to Mental Health for Women. Boston: Beacon Press.
Cherkasky, A. (2000). Exacerbations of disfluency and the menstrual cycle in women who stutter. California School of Professional Psychology, Alameda, CA (doctoral dissertation).
Kreger, DW, Maxon-MacDaniel J, Drexler ML, Cherkasky AS, Nakagawa A, Wolff LE, Zipf-Williams E. (1998). The evolving role of the neuropsychologist: designing a specialty care unit for Alzheimer's patients. Archives of Clinical Neuropsychology, 13 (1), 39-40.
Podicasts or Videos
Webinars at William James College – several per year:
Careers in Mental Health
Counseling Department
Health and Behavioral Medicine concentration
Select Presentations
Presenter, Massachusetts General Hospital, Boston, MA, 2007
DSM-IV Criteria for Eating Disorders: Inherent Problems & Implications
New England Eating Disorders Research Collaborative
Presenter, Walden Behavioral Care, Waltham, MA, 2006
The Continuum of Care: Clinical Challenges of Working with Eating Disorder Patients
(Beyond the Basics: A Review of the Treatment of Eating Disorders; Day conference)
Guest Speaker, Massachusetts General Hospital, Boston, MA, 2005
Integrative Approaches to the Treatment of Eating Disorders
Harvard Eating Disorders Center & Neuroendocrine Department
Expert Panelist, Massachusetts General Hospital, Boston, MA, 2005
Harvard Eating Disorders Consortium
Harvard Eating Disorders Center & Neuroendocrine Department
Presenter, Walden Behavioral Care, Waltham, MA, 2004
The Role of Psychoeducation in the Treatment of Eating Disorders
Professional Lecture Series, co-sponsored by MEDA and Walden Behavioral Care
Guest Speaker, Massachusetts School of Professional Psychology, West Roxbury, MA, 2004
Clinical Assessment and Interventions in Obesity
PsyD seminar
Guest Speaker, Cambridge Health Alliance , Cambridge, MA, 2004
Practical Approaches to Obesity
Med-Psych Grand Rounds
Guest Speaker, Cambridge Health Alliance, Cambridge, MA, 2003
Emotional Changes Associated with Menopause
Obstetrics and Gynecology Grand Rounds
---
Concurrent Leadership, Service and Professional Activities
Clinical Supervisor, William James College
Academic Policy and Standards Committee
---
Prior Experience
Interim Field Placement Director, Counseling Department, Massachusetts School of Professional Psychology
Clinical Director, Eating Disorders Services, Walden Behavioral Care, Waltham, Massachusetts
Consultant, Walden Behavioral Care
Wellness for Women – private practice, Wellesley, Massachusetts
Newton Wellesley Eating Disorders & Behavioral Medicine, group practice
Staff Psychologist - Women's Health Center, Cambridge Health Alliance/Harvard Medical School
Clinical Instructor of Psychology in the Department of Psychiatry, Harvard Medical School
Adjunct faculty, Massachusetts School of Professional Psychology
---
Professional Affiliations
American Counseling Association
American Psychological Association
Massachusetts Psychological Association
---
Community Involvement
2014: Patient and Family Panel Presentation: Novel Approaches in the Treatment of Depression, Massachusetts General Hospital, Department of Psychiatry