Behavioral Health Service Corps℠
Career Ladder Program
Spend a Year Exploring the Field of Behavioral Healthcare, Earn Credits Toward Your Master's in Counseling
Are you a passionate, service-minded individual? Are you interested in a career in mental health? Take the next step in your professional and educational journey and join the Behavioral Health Service Corps℠. We're looking for talented college graduates who desire to work in underserved communities and make a difference in the lives of others. You'll gain hands-on experience, earn a salary, and get credit toward your master's degree. Our next cohort begins in January 2023.
The Behavioral Health Service Corps℠ (BHSC) attracts new and emerging talent to work in behavioral healthcare. Recent college graduates spend a year exploring both a career and a path to and through graduate school and becoming familiar with the work of behavioral healthcare, understanding the needs of different populations, and receiving mentoring in becoming professionals in this field. The mentoring component is provided by mental health professionals and faculty. It is a transformational year for the scholars to learn about their own interests.
Our application deadline is Thursday December 15, 2022. Resolve to make a difference and take the next step in your career! The program begins in early January.
Make a Difference
More than 1 in 5 children and adults have behavioral health problems that impact their work, education and family life. About one-quarter of Massachusetts residents who seek behavioral health treatment are unable to secure an appointment—and for those seeking a provider with expertise in working with children or seniors, or who come from a similar cultural background, the process of finding a provider is even more complicated. Few clinicians treat children or seniors, and nearly ninety percent of behavioral health professionals nationwide are non-Latino Caucasian.
The William James College Behavioral Health Service Corps℠ offers you an introduction to this important healthcare field and the opportunity to help.
"Being a part of this program has definitely opened my eyes to what the field was like, but also my place in the field. I really came to this program to strengthen my clinical skills and to become a well-versed clinician. My previous work has been very much community service-based so a really big draw to the program was how I am able to work in communities that are underserved."

Capryce Browne
Behavioral Health Service Corps℠ Scholar
Gain Hands-On Experience and Earn While You Learn
Work in a one-year paid service position with one of several partner behavioral health organizations serving underserved communities in Greater Boston. Hands-on work focuses on high-need areas such as substance use and addictions, veterans, and school-aged youth. Entry-level roles pay a salary of $35,000-$40,000 per year plus benefits.
Get credit toward your master's degree
Enroll in two courses at William James College. Courses are designed to complement and enhance the employment experience and the six credits earned during the service year can be applied toward the master's degree. Employers allot four hours per week of work release time for training and professional development.
In addition to the required six credits, Scholars will receive a 3-credit course voucher, which they can use to enroll in another course through the Counseling and Behavioral Health Department. The voucher will be valid for a period of one year following program completion, and Scholars must enroll as non-matriculating students on a space-available basis.
Grow your network and make a difference
Scholars work side by-side with behavioral health professionals who have committed their lives to serving the needs of others, giving scholars the opportunity to learn through direct mentoring and also the opportunity to make an impact through their own work. In addition, Scholars live and learn in the Boston area and connect with peers who share the same commitment to service.
$15,000 Scholarship for BHSC Alumni
BHSC Graduates can earn an annual $15,000 scholarship to a William James College master's or doctoral program.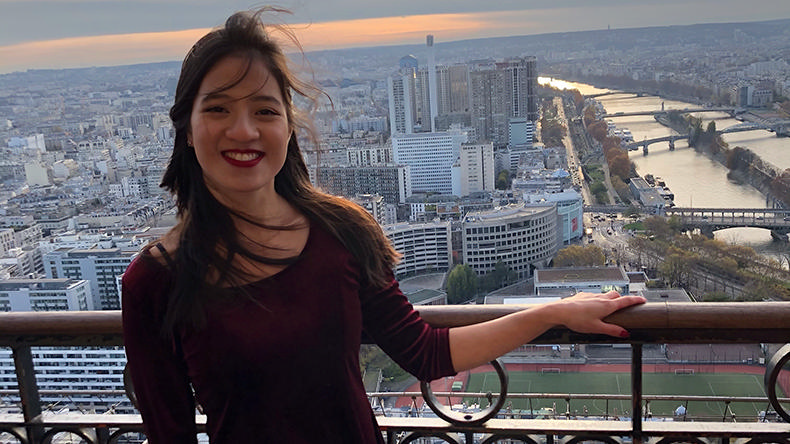 "I Think It's the Path I'm Meant to Go On"
Meet Behavioral Health Service Corps℠' Inaugural Scholars.
Three Scholars share their experience in the program, telling us about their interest in behavioral health, why they joined the service corps and what their goals are once their service year ends.
Behavioral Health Agency Partners
William James College's partnering community agencies include:
---
A Year in the Life of the Behavioral Health Service Corps℠
Begin with a 1-week, skills-based orientation.
Receive an employment placement with a partnering agency in a BA/BS level position and serve in inpatient units, home-based services, residential treatment and recovery centers, among others.
Earn up to nine, free, graduate credits taking three courses as non-matriculating students in the Clinical Mental Health Counseling Master's program at William James College. Partnering agencies will allow four-hours of release time for coursework and professional development.
Receive clinical supervisory support and mentoring throughout the year-long experience.
Friday afternoons will be reserved for academic training, mentorship, professional development, and supervisory-related activities. The required time commitment will be 1:00-5:00 PM on-campus at William James College to allow Scholars to meet with their supervisors/mentors from 4:00-5:00 PM on Fridays.
Ready to Apply?
Application Deadline for January
We are now accepting applications. Our deadline has been extended to Thursday, December 15, 2022. We encourage you to apply early and secure your employment position. You can begin working full-time and earning a salary this fall before the official start of the training program in January.
Please contact servicecorps@williamjames.edu for any questions.

Interviews
Your admissions process will include two interviews:
The first interview will be with William James College Center for Workforce Development team members
The second is with employers
Eligibility Criteria
Applicants to the Behavioral Health Service Corps℠ must have earned a baccalaureate degree from an accredited institution before starting the program.
Required Application Materials
*Scholars selected for the program will also complete a job application for their employment site.
---
Letters of Recommendation
Letter(s) of recommendation are required from people who are able to attest to your professional, academic, intellectual, motivational, interpersonal, and emotional qualities. References should not be provided by family members, friends, or others who don't know you in either a professional or academic context. Please provide this form to your recommenders.
---
Curriculum Vitae
Please attach a current CV or résumé which includes the following: educational background, current activity, length and description of employment and/or training experiences, hours per week at each job or training site, names of supervisors at each facility, workshops and seminars attended, and any additional professionally-related material (e.g., presentations, publications, etc.). You may also include any extracurricular activities or interests that you deem relevant.
---
Application Essay
Please provide a 500-word essay stating your interest in the Behavioral Health Service Corps℠ program.
---
Official Transcript(s)
Please request an official academic transcript from each undergraduate and graduate institution that you have attended. Paper transcripts or e-transcripts should be sent directly to William James College from the issuing registrar's office. We recommend that you request these documents as soon as you decide to apply for admission and to allow at least ten business days for the issuing registrar to process your request. If you have completed a semester abroad and these corresponding courses do not appear on your home institution's transcript with a letter grade, then you must provide a separate transcript for this period of study.
Paper transcripts must be addressed to:
William James College
Office of Admissions
1 Wells Avenue
Newton, MA 02459
E-transcripts must be sent to admissions@williamjames.edu, and must arrive at William James College on or before the set deadline. Postmark on the deadline date is not acceptable.
All applicants who have attended a non-US institution of higher learning must provide an official translation and equivalency to US Higher Education of their academic record. William James College recommends that applicants contact World Education Services to request this service. For more information, please visit www.wes.org.