Scholarship Opportunities
William James College offers a wide range of scholarships to support you in advancing your education and following the path to your dream career. All applicants are considered for merit-based scholarships at the time of application review. Other institutional scholarships may require a separate application. Employees of partner behavioral health agencies may apply for the Behavioral Health scholarship and qualify for a significant tuition discount. Our Center for Multicultural and Global Mental Health (CMGMH) offers a ⅔ scholarship for students committed to working with unserved and underserved populations and training in one of our CMGMH concentrations. For more information on the many scholarship opportunities for which you may qualify, see the links below.
For Graduate Students
William James College offers merit-based scholarships. All William James applicants will be considered for a merit-based scholarship by the Admissions Committee based upon your application materials and your admissions interview. You will be notified of any merit-based scholarships on your offer of admission. Scholarships are renewable each year (up to four years maximum) provided that you remain in good academic and financial standing and continue to make Satisfactory Academic Progress (SAP). A student is eligible to receive one scholarship. If a student qualifies for two scholarships, the larger amount is awarded lieu of both scholarships.
William James Institutional Scholarships for Incoming Students
William James Scholarship Funds for Enrolled Students
Grant Supported Practicum/Internship Experience
For Undergraduate Students
William James College Bachelor's Completion Scholarship
Bachelor's students taking at least 6 credits each semester are eligible for scholarship support from the William James College Bachelor's Completion Scholarship for the duration of their enrollment in the program. This scholarship covers up to half off tuition each semester for Fall 2022. Starting in January 2023, there will be new requirements for scholarship funding and eligibility.
---
William James Scholarship Fund
The following friends and alumni of William James College have generously offered scholarship funds for the purpose of promoting increased educational opportunities for deserving students. These scholarships are based upon merit, and eligibility will be determined at the time of application review. Applicants do not need to submit a separate scholarship application. Qualified students will be notified of their award in their admission letter. If you would like to make a gift to the William James College Scholarship Fund, please click here and select "Scholarship Fund" from the dropdown menu.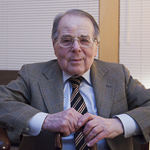 Eli Dubinsky established this scholarship in 2010 in memory of Ms. Bessie Dubinsky, his beloved older sister who took care of him when he was young and who he, in turn, cared for as she aged, until her death. This scholarship supports veterans to treat other veterans, because, as he said: 'veterans need more help than they receive and only people who have been there can really provide for them.' The needs of military veterans and their families were very close to Eli's heart as were his sisters'.
Two days after graduating from Boston College with a bachelor's in chemistry, Eli reported for military duty. The year was 1941, and for the next four years he saw, by his modest report, "substantial" action in the Pacific. For many years, Mr. Dubinsky directed the Chemistry Department at Tufts NE Medical Center. Peter Berenson, a William James College Trustee and close friend of Mr. Dubinsky, has also been a significant supporter of this scholarship fund over the years.
Dr. John D. Robinson, former William James College Trustee and current faculty member in the medical schools at Howard and Georgetown Universities, endowed the first scholarship specifically in support of ethnically diverse students at William James College in 1982. When asked to comment on what Black History Month means to him, he says: "Black History month is an opportunity to reflect on the contributions of blacks and African Americans in the development of our country, the United States of America, and to get a better understanding of the struggles endured by these people for the survival of all people in this country. We must always remember that we stand on the shoulders of other who came before us. An understanding of Black history is vital to appreciate our diverse culture and society - the tapestry of America."
Kate P. Inglis, a friend of Norbett Mintz, donated $100,000 to William James College in 1991 shortly before she died to establish a scholarship in her name. William James College received another $100,000 for the scholarship fund from her estate in 1992. In a thank you letter to Ms. Inglis from William James College President, Dr. Bruce Weiss, he writes, "Many of our students come to William James College with great financial need; most sacrifice much and work very hard to earn their doctoral degrees. Your commitment to education and to learning will have great meaning to future students here who will experience the benefits of your caring and wisdom."
Leota Long Janke was a psychologist and former trustee of William James College. She wrote a number of publications including A Comparison of the Predictive Value of Three Intelligence Tests in College and Relations Between Ability, Social Status in a Midwestern Community and Interview in Social Research. Ms. Janke also served as a a research associate/bibliographer on the project staff of the Human Engineering Information and Analysis Service at Tufts in 1961. Ms. Janke passed away in 2008 at the age of 96. This scholarship lives on in her name to support students of psychology at William James College.

Ed, a former member of William James College's Board of Trustees, is a retired electrical engineer and computer scientist, and the former CEO of CSP, Inc., a company he founded in 1969. Marilyn, a former organic chemist, at age 50 entered doctoral studies at William James College and graduated from the school in 1985. "William James College was a very nurturing experience for me," says Marilyn, "and we wanted to give back to the field." The Cohler's Scholarship at William James College was created in 1990 to benefit second and third year William James College students. Homage to education began early with the Cohlers. Ed comes from a family of educators; his father was associate superintendent of schools in Chicago, and his mother, an English teacher, developed the English curriculum for the State of Illinois. While schooling for Marilyn's mother stopped after the eighth grade, her European Russian father had not gone even that far, but was capable of speaking several languages. "My father would say to me," comments Marilyn, "they can take everything from you, but they can't take your education."
Norbett "Norby" Mintz was a psychologist and one of the founders of William James College who established this scholarship as a memorial to his departed wife and to support the education of William James College students. A letter from William James College President, Dr. Bruce Weiss in 1991 states, "Norby's record of devotion to the School is perhaps unequaled. Indeed, he has served William James College in many ways—as one of the educators whose vision helped create the School, then as a leader on our faculty, and, of course, as an unselfish philanthropist in connection with his family and others. He has been one of William James College's most effective advocates in our professional community and good-will ambassadors in the larger community."