The Yellow Ribbon Scholarship Program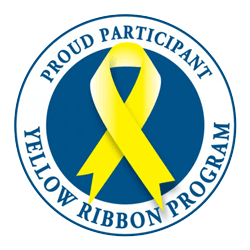 William James is proud to participate in the Veterans Administration Yellow Ribbon Program. Qualifying Veterans will receive a matching Yellow Ribbon grant of up to $10,000 from William James College, which has just been awarded unlimited student Yellow Ribbon spaces. For more information about Yellow Ribbon Benefits please visit www.benefits.va.gov/gibill/yellow_ribbon.asp
GI Bill® is a registered trademark of the U.S. Department of Veterans Affairs (VA). More information about education benefits offered by VA is available at the official U.S. government Web site at https://www.benefits.va.gov/gibill.
Yellow Ribbon Scholarship Application
If you qualify for the Yellow Ribbon Program through the VA please fill out this application and provide the appropriate documentation listed on the application.