Faculty: Shannon Kelley, PhD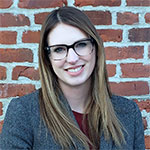 Shannon Kelley, PhD
Assistant Professor, Clinical Psychology Department
Faculty, Forensic Psychology Concentration
| | | | |
| --- | --- | --- | --- |
| Degree | Major/Emphasis | Institution | Year |
| PhD | Clinical Psychology | Texas A&M University | 2018 |
| MS | Clinical Psychology | Texas A&M University | 2015 |
| BA | Psychology | Rice University | 2011 |
Courses
Personality Assessment
Adult Forensic Psychology
Research Methods
---
Research and Practice Interests
Psychopathic Personality Disorder
Forensic Mental Health and Violence Risk Assessment
Transdiagnostic Models of Personality and Psychopathology
Self-Other Knowledge Asymmetries in Mental Health
---
Professional Licenses and Certifications
Licensed Psychologist (Massachusetts)
National Register of Health Service Psychologists
Designated Forensic Psychologist, Department of Mental Health
---
Awards
U.S. Senator Phil Gramm Doctoral Fellowship, Texas A&M University (2017)
Saul Sells Research Excellence Award, Texas A&M University (2016)
---
Publications and Presentations
See Dr. Kelley's Google Scholar and ResearchGate pages for complete publication records.
Selected Peer-Reviewed Journal Articles:
Ruchensky, J. R., Kelley, S. E., Massey, C., Richardson, L. A., Blais, M. A., and Stein, M. B. (2023). Using the Personality Assessment Inventory to assess the Alternative Model for Personality Disorders: Criterion validity in a clinical sample. Journal of Personality Assessment. doi:10.1080/00223891.2023.2203240
Anderson, J. L., and Kelley, S. E. (2022). Antisocial personality disorder and psychopathy: The AMPD in review. Personality Disorders: Theory, Research, and Treatment, 13(4), 397-401. doi:10.1037/per0000525
Truong, T. N., Kelley, S. E., and Edens, J. F. (2021). Does psychopathy influence juror decision-making in capital murder trials? The devil is in the (methodological) details. Criminal Justice and Behavior, 48(5), 690-707. doi:10.1177/0093854820966369
Kelley, S. E., Edens, J. F., Mowle, E. N., Penson, B. N., and Rulseh, A. (2019). Dangerous, depraved, and death-worthy: A meta-analysis of the perceived correlates of psychopathy in criminal cases. Journal of Clinical Psychology, 75(4), 627-643. doi:10.1002/jclp.22726
Kelley, S. E., Edens, J. F., Donnellan, M. B., Mowle, E. N., and Sörman, K. (2018). Self- and informant perceptions of psychopathic traits in relation to the triarchic model. Journal of Personality, 86(4), 738-751. doi:10.1111/jopy.12354
Hawes, S. W., Byrd, A., Kelley, S. E., Gonzalez, R., Edens, J. F., and Pardini, D. A. (2018). Psychopathic features across development: Assessing longitudinal invariance among Caucasian and African American youths. Journal of Research in Personality, 73, 180-188. doi:10.1016/j.jrp.2018.02.003
Kelley, S. E., Edens, J. F., and Douglas, K. S. (2018). Concurrent validity of the Personality Assessment Screener in a large sample of offenders. Law and Human Behavior, 42(2), 156-166. doi:10.1037/lhb0000276
Kelley, S. E., Edens, J. F., and Morey, L. C. (2017). Convergence of self-reports and informant reports on the Personality Assessment Screener. Assessment, 24(8), 999-1007. doi:10.1177/1073191116636450
Edens, J. F., Kelley, S. E., Lilienfeld, S. O., Skeem, J. L., and Douglas, K. S. (2015). DSM-5 antisocial personality disorder: Predictive validity in a prison sample. Law and Human Behavior, 39(2), 123-129. doi:10.1037/lhb0000105
Selected Book Chapters:
Edens, J. F., Petrila, J., and Kelley, S. E. (2018). Legal and ethical issues in the assessment and treatment of psychopathy. In C. J. Patrick (Ed.), Handbook of psychopathy (2nd ed., pp. 732-754). New York, NY: The Guilford Press.
Douglas, K. S., Nikolova, N. L, Kelley, S. E., and Edens, J. F. (2015). Psychopathy. In B. L. Cutler and P. A. Zapf (Eds.), APA handbook of forensic psychology: Vol. 1: Individual and situational influences in criminal and civil contexts (pp. 257-323). Washington, D.C.: American Psychological Association.
---
Concurrent Leadership, Service and Professional Activities
Consulting Staff, Psychology/Forensic Services, Bridgewater State Hospital
---
Prior Experience
Postdoctoral Fellow, Forensic Psychology, Bridgewater State Hospital
Visiting Scholar, Center for Anxiety and Related Disorders, Boston University
Clinical Fellow, Department of Psychology, Massachusetts General Hospital/Harvard Medical School
---
Professional Affiliations
American-Psychology Law Society
International Association of Forensic Mental Health Services
Phi Beta Kappa
Society for Personality Assessment