Organizational and Leadership Psychology Alumni Alliance (OLPAA)
OLPAA invites you to join our collective!
Who are we?
We are a collective group of graduates from the Organizational and Leadership Psychology field at William James College. The OLPAA organizes events that vary between workshops, trainings, expert panels, and networking events that give participants an opportunity to stay connected in the community, network with peers, and gain new and exciting knowledge within the field. As an ever-growing community, the OLPAA is always improving and expanding; continuing to branch out within a greater network of opportunity.
Join Our Mailing List
Contact the Office of Alumni to join the OLPAA mailing list
Email Alumni Office
Who can join?
We consist of alumni interested in expanding their knowledge of the organizational leadership psychology field by utilizing collective intelligence to plan and host targeted events. We have an elected group of alumni officers who plan quarterly events and also encourage members' suggestions and help in event planning and facilitation. Most events are free and open to anyone interested in attending.
What are the benefits?
One of the most successful strategies for finding employment in OLP is networking. The Alliance gives graduates a place to meet and greet with those currently practicing in the field. Additionally, organizational psychology is a constantly evolving field. By attending and participating in Alumni Alliance events one may gain invaluable information and experience personal growth.
What is the commitment?
The OLPAA is free to join and does not at this time collect any dues from members. Members attend quarterly events and are encouraged to aid in the organization or preparation of these events. Phone calls are planned monthly for OLPAA board members to check in on event status as well on request. Any members who are interested in joining the board or helping with planning are encouraged to join the calls. For an elected OLPAA representative, the time commitment will vary depending on events but can expected to be 1-2 hours a week, mostly remotely.
What to expect?
During our events we have had practitioners in the field, book releases, question-and-answer panels with experts, interactive workshops, model trainings, and organized networking events. Each quarterly event is molded and shaped by the Alumni Alliance members and organizers and we want your voice to be heard. If you know someone who would make a good speaker or have an idea on what would be a great area to have training in, we want to hear it.
How can I get involved?
Email Darlene Piva if you would like to join or find out more information at darlene_piva@williamjames.edu.
---
Faculty Liaison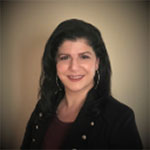 Darlene Piva, MA, PsyD
Organizational Psychology, Class of 2015
Leadership Psychology, Class of 2019
Darlene is an organizational development consultant with more than 20 years of experience in the financial industry, holding a variety of positions in retail, operations, and training and development divisions.
Darlene has led teams in process improvement projects, technology implementation projects, and interdepartmental team relationship building. She also spent five years as program manager for a management development program responsible for designing, developing, organizing, and delivering a nine-month curriculum to prepare mid-level talent for executive level positions. Currently, she is core faculty and Senior Associate of Field Placement for the Organizational & Leadership Psychology department at William James College and maintains a consulting practice to leaders and organizations. Darlene is interested in assisting organizations as they create environments where individuals and groups can flourish and find meaning and purpose in their work while achieving increased organizational performance.
Darlene is a graduate of both the MA in Organizational Psychology and the Leadership Psychology PsyD programs from William James College. She also holds a BA in Economics from Providence College.
---
OLPAA Chair
Brandi Derr, PsyD