2012 Lucero Scholar: Andrea Bedoya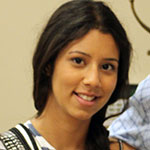 Andrea Bedoya
2012 Lucero Scholar, Clinical Psychology PsyD
Born in Medellin, Colombia. BA in Psychology and MA in Clinical Psychology for Spanish-English Bilinguals from Montclair State University.
My interest in working with Latinos originated from my own background as a Colombian immigrant, and from my constant involvement with the Latino community through internships and voluntary community work. I have witnessed the limitations Latinos face in seeking mental health services due to cultural stigmas, low income, lack of insurance, undocumented status, or limited understanding of the English language. My practical experiences have not only helped me realize the benefits of mental health interventions, but have also highlighted the need for more culturally sensitive mental health services. I was happy to find a doctoral program that had a focus on Latino Mental Health, as I believe there are not enough professionals with the appropriate training to work with this population. There is a high need for Spanish-speaking and specially, cross-cultural trained practitioners. I look forward to filling this need with my doctorate degree in clinical psychology.
I am immensely grateful for the financial assistance that the Lucero Scholarship will provide me. This economic support along with the many learning experiences the Latino Mental Health Program offers (e.g., field placements serving Latino clients, clinical seminars conducted in Spanish, immersion experiences in Latin America, and coursework on the mental health of Latinos), will allow me to become the culturally competent practitioner I wish to be.
Entering Class of 2012
Graduated from Clinical PsyD program 2016