2019 Lucero Scholar: Andrea Solis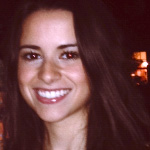 Andrea Solis, PsyD
2019 Lucero Scholar, Clinical Psychology PsyD
Born in McAllen, Texas. MA in Clinical Psychology from Roger William University, BA in Psychology from Franklin and Marshall College.
My name is Andrea Solis and I was born and raised in McAllen, Texas, situated along the U.S.-Mexico border. Through my own cultural background as a Mexican, my volunteer experiences mostly working within my own Latino community, and my professional experiences, my interest was sparked to give back to Latinos who struggle to receive services due to the barriers commonly faced by Latinos. By witnessing these barriers, it pushed my desire to further my education and acquire the training that will equip me with the knowledge/skills to provide culturally sensitive mental health services.
In order to fulfill my dream of becoming a Clinical Psychologist, I chose William James specifically for the Latino Mental Health Program (LMHP). Upon receiving the Lucero scholarship, I was overcome by excitement knowing that this would give me the financial support that would bring me closer to my goal of serving Latino communities as a clinical psychologist. Being a Lucero scholar will always be something that I cherish. It is my goal to continue serving the Latino community and follow in the footsteps of Dr. Cynthia Lucero. It is also an immense honor to receive support from Dr. Mari Carmen Bennasar, who is a great role model that motivates me to be my best. As a first-year student, I am also very fortunate and beyond excited to join other LMHP students/faculty in attending a 5-week summer immersion trip to Ecuador!
Entering Class of 2019
Clinical Psychology PsyD Student