2013 Lucero Scholar: Catherine Smail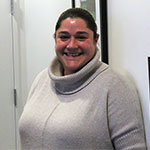 Catherine Smail
2013 Lucero Scholar, Clinical Psychology PsyD
Born and raised in Wisconsin. American University.
Born and raised in Wisconsin, I have spent the past 8 years working with Hispanic youth in the Boston Area. I have most enjoyed work with disengaged and disenfranchised youth who were often involved with gangs, drugs and the court system. After so much time spent in Chelsea's vastly Hispanic population, and more in Bogotá Colombia where I worked with both students and ex-combatants, I've come to both appreciate Spanish cultures. While studying at Clark University it was initially the academic appeal of conflict resolution drew me to Latino countries; It was the nuance of language, the importance of family and the openness to dance that maintained my love of Hispanic culture.
It is my hope that through Massachusetts School of Professional Psychology, I will be able to continue my work with Latino, gang-involved youth as a socially responsible Clinical Psychologist focusing on the impacts of violence and trauma, and attune to the multicultural needs of my clientele. I am particularly interested in working with young people through alternative sentencing programs. While I have personal affection for Latino cultures, I also believe that the ability to work with people from various backgrounds, especially as I continue my career with disenfranchised youth, is absolutely essential and is in line with the mission of William James College graduates to meet the ever changing needs of the United States population. In order to effectively serve this clientele, those interested in urban youth development and advocacy must establish skill sets that meet the linguistic and cultural needs of Latino young people. My work with this growing and challenging population is directly connected to the mission of William James College as I become a "socially responsible mental health profession who is committed to working with the multicultural world community."
My interest in serving Latino populations is not, however, exclusively based in the changing needs of the country's population. My primary interest is in allowing young people to recognize their own potential. Already markedly underserved, gang-involved Latino youth are smart, resilient, and capable of both incredible strength and kindness. They deserve (and sometimes demand) the same qualities in their advocates. As they straddle two cultures, and as I ask them to make remarkable changes in their lives, they must know that I will make a true effort to understand those for whom I am advocating. It is my honor to serve this population, to remind them that they are capable of change, and to teach them that they are both needed in and accountable to their communities. My young people, past and present, have taught me that hope for change lies in doing youth work well, with humility and hard won knowledge.
At William James College I'm continuing my education by working with Latino families in the Merrimack Valley at Family Continuity and by taking classes in the Latino Mental Health Program.
Entering Class of 2013
Graduated from Clinical PsyD program in 2017