2014 Lucero Scholar: Daisy Mariela Waukau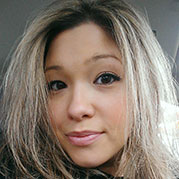 Daisy Waukau Mariela
2014 Lucero Scholar, Clinical Psychology PsyD, Counseling Psychology MA
Born and raised in Massachusetts.
My name is Daisy Mariela Waukau (Rivera). I was born in Boston, MA to Puerto Rican parents. I am a student, and mother of two little girls. Growing up I witnessed my two hard-working parents struggle to give my brothers and I access to more opportunities than they had. Eventually we moved an hour outside of Boston to a small suburban town and I experienced culture shock. For the first time, I felt "different." I lived in two cultures – within the walls of my home, I lived in Puerto Rico; but in school I was in a suburban American culture. All of a sudden I had to define what it meant to be Latino. Witnessing all of the discrimination, stereotypes and racism that my family and I experienced implanted a strong determination within me to help empower other Latinos who are experiencing similar and more extreme difficulties. After High School I moved to Miami, FL to immerse myself in a diverse community as I began working towards my undergraduate degree. In Miami I was exposed to and learned about other Latino cultures that I had never been exposed to. A year later I moved to Kodiak, Alaska and found the most unexpected concentration of Latino immigrants. There, I worked with groups of immigrant students in the English Language Acquisition Program at North Star Elementary School. I held groups for students to process concerns and worries that weighed on them on a daily basis. They had concerns about not fitting in because their skin was dark and they spoke with accents; financial concerns; and concerns that their parents worked too long and hard in arduous work environments such as the cannery. It was there, in Alaska, that I realized the way to help and empower other Latinos would be through the field of Psychology. I started interning at the Women's Resource Center to help women and children (mostly minorities) out of Domestic Violence. After a couple of years in Alaska, I moved back to Massachusetts to continue my education and be near my family, as I was starting a family of my own. Working in the field of Psychology, the need for more culturally-sensitive mental health services is apparent. I am proud to have found a program that highlights the beauty and diversity within the Latino culture and focuses on the resilience factors among the Latino community.
I am deeply honored to have been chosen to carry on the work of Dr. Cynthia Lucero as the next Lucero Scholar. The Latino Mental Health Program has been a truly enriching experience. From studying theories better geared at working with Latinos, to learning techniques in the Spanish language, and putting those techniques to practice with Latino clients at internships and immersion experiences – it is a truly well-rounded program. I am eternally grateful to the Lucero Family and Foundation for helping make my dream of a having a Doctoral degree a more realistic possibility. This program has helped me grow tremendously and will empower me to empower other Latinos and become the culturally-sensitive Psychologist I aspire to be.
Entering Class of 2014
Graduated from Counseling Psychology MA program in 2014
Graduated from Clinical PsyD program in 2018