2015 Lucero Scholar: Estefania Diaz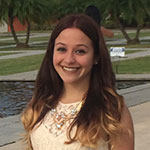 Estefania Diaz
2015 Lucero Scholar, Counseling Psychology MA
Born in Bayamon, Puerto Rico. BA in Psychology from University of Puerto Rico, Rio Piedras Campus.
From the moment I decided to complete my graduate studies in United States I wanted to contribute to the Latino Community. My interest in working with Latinos originated from my own background as a Puerto Rican, and from my constant involvement with the Latino community through internships and voluntary community work. Growing up my entire life and being part of the Latino Community, I knew that my knowledge and preparation in the psychological field was intended to be constructed towards the Latino Community.
Being a Lucero scholar has provided me with the financial assistance to pursue master level training in Counseling Psychology as well as work with the Latino population. For me it has been very important because it will offer me the opportunity to serve the individuals from Latino cultures and create the social and cultural connection that this minority community needs. This connection will start with the language. Being a Spanish speaker helped me to provide the services that are competent within this community.
As a Lucero Scholar I have had the opportunity to work with Latinos in both English and Spanish from year 1 at William James College. My first year field placement was at Casa Esperanza Inc. In this setting I provided outpatient mental health services to primarily adult Latino clients along with a multidisciplinary team of bilingual and bicultural staff. At these site I had the opportunity to establish strong professional relationships with experts in the field of multicultural psychology. Part of this scholarship also provided me the opportunity to participate in the Latino Mental Health Program at William James College. Through this unique program I have had the opportunity to establish relationships with other students sharing the same interests and passion as me in working with the Latino population. Receiving the Lucero Scholarship at William James College is a great honor for me. Although I did not meet late Dr. Cynthia Lucero, a graduate of William James College, in whose commemoration the scholarship is awarded, I am aware of the strong commitment she had to serving the Latino community. I aspire to continue her work during my time at William James College and beyond. This economic support along with the learning experience that the Latino Mental Health Program allows me to become the competent practitioner I want to be and continue with the legacy of the Lucero contribution.
Entering Class of 2015 Counseling Psychology MA Student