2010 Lucero Scholar: Herlinda Tin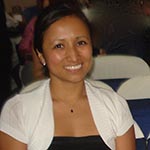 Herlinda Tin
2010 Lucero Scholar, Clinical Psychology PsyD, Counseling Psychology MA
Born in Tejutla, San Marcos, Guatemala. B.A. in Psychology from University of California, Riverside; MA in Counseling Psychology from William James College (class of 2012), concentration in Latino Mental Health; Clinical PsyD Program, Concentration in Latino Mental Health.
What does it mean to you to be a Lucero Scholar?
It is an honor to be one of the Lucero Scholars. With great humility, I hope to continue fulfilling Dr. Cynthia Lucero's mission and commitment to provide quality and competent mental health care to the Latino Community.
What has this opportunity allowed you to do that you may not have otherwise pursued?
The Lucero Scholarship gave me the opportunity to pursue my goal of continuing with my education. The assistance provided helped me accomplish one of my goals, which was to obtain my Master's in Counseling Psychology, and now to pursue my doctoral training in Clinical Psychology. Most importantly, it has given me the opportunity to serve the Latino population in an area that is important to their well being, mental health.
Can you tell us about some of the field placements where your Latino Mental Health training has impacted your relationship with clients in a transformative way?
As a Lucero Scholar and a student at William James College, I have had the opportunity to work with Latinos at every site that I have been placed. During my first year in the Counseling program, I had the privilege to work with Latino youth, at the Latino Health Institute (LHI), who had gone through traumatic experiences, such as domestic violence, community violence, sexual assault, and immigration trauma. The work conducted at LHI was all in Spanish. During my second year in training, I was placed at South Middlesex Opportunity Council (SMOC) in Framingham, where I had the honor to work with a diverse population, including Latinos. At my current site, Mt. Ida College, I will have the opportunity to work with first generation college students.
My Latino Mental Health training has impacted my relationship with clients. Even though I was born in Guatemala, grew up in San Francisco, and now reside in Boston, and considered myself diverse, there is still a lot to learn. The training at William James College and in particular, the LMH Program has broaden my world and has helped me become more aware and self-conscious about my own biases and stereotypes with and with non-Latinos.
What is one of the most important lessons or take away from your experience in the program?
One of the most important lessons taken away from my experience is that we, as Latinas, are different but at the same time, we are very similar. We share a rich culture and language, which needs to be appreciated and valued.
Can you tell me if there is anything in your own background/history that impacted your decision to be a Latino Mental Health student at William James College?
I was born in Tejutla San Marcos, Guatemala. I have seen and experienced the challenges Latinos face in the U.S. Being in a place where they don't feel understood and away from their families can make their experiences that much harder. Not knowing the language can cause Latinos to feel alienated and also increase the difficulty in trying to assimilate to a new culture. Dr. Cynthia Lucero's Latino Mental Health Program has and continues to empower me with the tools needed to help people, like my family, feel integrated and understood.
Entering class of 2010
Counseling Psychology MA, graduated 2012
Clinical PsyD, graduated 2015