2018 Lucero Scholar: Karina Fundora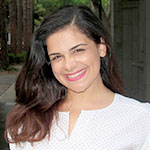 Karina Fundora
2018 Lucero Scholar, Clinical Psychology PsyD
Born in Miami, Florida. BA in Sociology from the University of Florida.
My name is Karina Fundora, and I am a student in the Clinical Psychology (PsyD) program at William James College. I was born and raised in Miami, Florida to two Cuban immigrant parents. I recently graduated from the University of Florida, where I majored in Sociology. At the University of Florida, I was a part of a community service organization where I mainly volunteered with minority children in Gainesville, Florida. I was also a research assistant at the Cognition and Aging Lab, where I later became the Bilingual Lab Manager. Through my involvement in community service, research, and coursework, I became extremely interested in working with underserved populations, specifically Latino children. It became very apparent to me the need for culturally competent clinicians, who could not only speak the language, but understand the cultural and social contexts in which these people exist.
When applying to William James College, I was immediately intrigued by the Latino Mental Health Program (LMHP) as well as the concentration of Children and Families of Adversity and Resilience (CFAR). After speaking with Dr. Mari Carmen Bennasar, she encouraged me to apply for the Lucero scholarship. When I had the honor of being awarded this scholarship, little did I know all that I would gain from being a Lucero scholar. I have had the privilege to work alongside Dr. Bennasar, and am forever grateful for her mentorship, compassion, and charm that reminds me so much of home. I have also had the opportunity to work alongside her for a research project in collaboration with the doctors that we work with in Guayaquil, Ecuador. I also have the opportunity to travel to Ecuador this summer, through one of the summer immersion programs offered by William James College. I am extremely humbled and grateful to be a Lucero scholar and for the all the opportunities it has given me.
Entering Class of 2018 Clinical Psychology PsyD Student