2016 Lucero Scholar: Tania Jimenez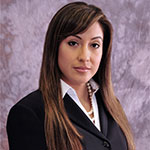 Tania Jimenez
2016 Lucero Scholar, Clinical Psychology PsyD
Born in Newark, NJ. EdM and MA in Psychological Counseling from Teachers College, Columbia University, BA in psychology from College of Saint Elizabeth.
I was born and raised in Newark, New Jersey. I am Puerto Rican and Peruvian. My cultural background as a Latina, first-generation college graduate, raised in a single-parent, working class household has influenced my interest in multicultural psychology. Both from my personal experiences and professional training, I have learned how cultural identity impacts who we are and how society perceives us. Thus, there is a salient need for culturally sensitive practitioners who can understand the unique needs of diverse clients. My graduate training in psychological counseling, inspired my interest in social justice and cultural competency. After I completed my Masters, I provided counseling to diverse clients, mostly who were Spanish-speaking Latinos. As such, I wanted to learn more appropriate intervention for Latinos and enhance my Spanish fluency.
I applied to William James College, doctoral program in clinical psychology because they offer a concentration in Latino Mental Health (LMHP). I wanted to attend a school that offered specialized training that coincided with my special interest in multiculturalism. The LMHP offers summer immersion opportunities in different countries. This summer I will attend the Ecuador immersion program. I am ecstatic about the opportunity to enhance my linguistic skills and learn another culture different than my own!
Moreover, LMHP has provided me with the privilege and honor of off-site supervision by the director of the LMHP program, Dr. Mari Carmen Bennasar. This was my first time being supervised by a Latina psychologist. Her support, supervision and mentorship has been a vital part of my training and professional development. Humility, compassion and leadership cannot be taught but rather felt by the hearth through interaction. That is what I have learned from her presence and by her example. I am grateful for these powerful learning opportunities as well as the financial assistance that the program has provided me. If you are interested in LMHP, please do not hesitate to contact me at tania_jimenez@williamjames.edu.
Entering Class of 2016 Clinical Psychology PsyD