2009 Lucero Scholar: Wendy Ramirez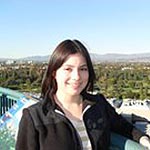 Wendy Ramirez
2009 Lucero Scholar, Clinical Psychology PsyD
Born in Los Angeles, California. Family originally from Mexico and Guatemala. University of California, Santa Barbara, BA in Law and Society, Psychology. Clinical PsyD Program, Concentration in Latino Mental Health and Childhood, Adolescence and Family.
What does it mean to you to be a Lucero Scholar?
Being a Lucero Scholar means that I have the privilege of keeping the work of the late Dr. Cynthia Lucero going. In this way, I have taken on the special commitment and responsibility to provide quality mental health care to the Latino community.
What has this opportunity allowed you to do that you may not have otherwise pursued?
Being a Lucero Scholar has allowed me the opportunity to relocate cross-country from the West Coast to the East Coast to purse a degree in higher education. This opportunity has also provided me exposure to both Latin American and American cultures in Massachusetts.
Can you tell us about some of the field placements where your Latino Mental Health training has impacted your relationship with clients in a transformative way?
The training I have received from the Latino Mental Health Program at William James College has had a positive impact on my ability to build relationships with clients. For example, my clients have expressed relief as well as gratitude that mental health professionals take into consideration the importance and value of their cultural experience within the context of their healing process.
What is one of the most important lessons or take away from your experience in the program?
One of the most important lessons I have taken away from my experience in the program thus far has been to gain a more profound appreciation of my own cultural values.
Can you tell me if there is anything in your own background/history that impacted your decision to be a Latino Mental Health student at William James College?
My family comes from Latin America, and although I grew up in the United States, I identify as bicultural, possibly even multicultural. To have to identify primarily with one cultural identity would undercut the richness of my expanded worldview. Given the opportunity to be part of a program that appreciates the intricacies of different cultures makes me feel eager to participate.
Entering Class of 2009
Graduated from Clinical PsyD program 2017