2015 Lucero Scholar: Yayci Patiño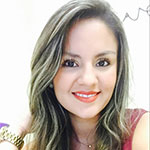 Yayci Patiño
2015 Lucero Scholar, Clinical Psychology PsyD, APA Internship
Born in Cali, Colombia. BS in Psychology and MA in Clinical Psychology from the University of Central Florida.
I am fortunate to be a Lucero Scholar. I was born in Colombia and move to Orlando, Florida at age 13. After a rough start in a new culture and learning a new language, I was able to reach my very first academic goal and became the first one in my family to earn a college degree. I earned my Bachelor's degree from the University of Central Florida in 2012 and my Master's in Clinical Psychology in 2015. In August of 2015, I moved to Boston, Massachusetts and joined the William James family.
The Latino Mental Health program sparked of my interest to apply to WJC as this program's objectives overlap with my professional goals. As a first generation immigrant, I look forward to making a difference in my community and hopefully spread my passion to future Latino generations. My immigration journey and the love for my culture is what fuels my commitment with the Latino population. I am truly grateful l to be part of the LMHP team!
Entering Class of 2015 Clinical PsyD Student, APA Internship