2020-2021 Scholar: Alexandra Jackson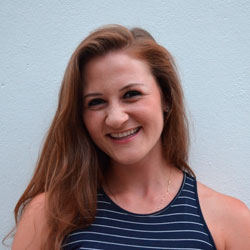 Alexandra Jackson
2020-2021: Underserved Scholarship Awardee
Clinical Mental Health Counseling MA
Favorite Quote
"God, grant me the serenity to accept the things I cannot change, courage to change the things I can, and wisdom to know the difference." — Reinhold Niebuhr
Alexandra Jackson earned her bachelor's degree in Biology with a minor in Education and a concentration in Spanish from Colby College in Maine. At Colby, she researched the prevalence of mental health issues on college campuses and the stigma that often prevents individuals from seeking treatment or admitting to a personal struggle. Her interests include researching the effects that race, socioeconomic status, ethnicity, sexuality and religion have on the prevalence of mental health issues among various populations and their impact on an individual's diagnosis.
For the past five years, Alexandra has been a teacher in both the United States and Mexico, working in private and public schools. She has taught AP Biology, 8th-12th grade Spanish, 6th grade Science, and English as a Second Language both online and in-person to individuals ranging from the ages of 3 to 50. Her students come from very diverse backgrounds and she is passionate about ensuring that each student feels cared for, understood and valued as an individual. For two years, she worked in one of the most diverse private schools in Massachusetts and made it a priority to ensure that all students had equal access to resources and had the tools they needed to succeed. She is fluent in Spanish and always tries to find opportunities to use this ability to communicate with and help individuals that need assistance in situations where the majority speaks English.
When asked about an accomplishment of which she is most proud, Alexandra stated,
"I am proud that I have been able to touch the lives of so many of my students. At the end of each school year, my students have written me touching cards saying that not only was I able to help them succeed academically, but also personally. In my life, I strive to help others and to show them that they are capable of doing anything they put their mind to."
During her graduate studies at William James College, Alexandra plans to complete her practicum and internship training at locations where she has access to working with a wide range of age groups and populations. She hopes to learn more about the variety of mental health issues seen within diverse communities in order to prepare for a career where she will be serving individuals of many ages and cultural backgrounds. Long-term, Alexandra would like to work in outpatient settings, specifically focusing on care for adolescents, young and middle-aged adults. She is passionate about working with individuals coping with anxiety, OCD and depression, and hopes to give them skills that will allow them to thrive in their daily lives. Alexandra would like to open her own private practice someday.