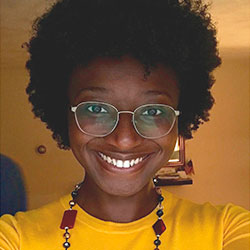 Beverly Ibeh
2017-2018: Underserved Scholarship Awardee
Clinical Mental Health Counseling MA
Couples and Family Therapy Area of Emphasis
Favorite Quote
"You may shoot me with your words, you may cut me with your eyes, you may kill me with your hatefulness, but still, like air, I'll rise." Still I Rise —Maya Angelou
Beverly is a first-generation Nigerian who was born in London where she lived until the age of 5 when her family moved to Nigeria. Beverly migrated to the United States at the age of 8 and recently became a U.S. citizen. She received her Bachelor of Arts degree in Psychology and a minor in African-American studies from Syracuse University, and her Master's degree in Clinical Mental Health Counseling with an emphasis in Couples and Family Therapy from William James College (WJC). Beverly is the only person in her immediate family who holds a graduate degree. During her Master's program at WJC, she interned as a milieu counselor at Wild Acre Residential Program in Belmont and trained at the Preschool Outreach Program through the Home for Little Wanderers in Roslindale. Beverly is currently an Advanced Standing Student in the Clinical Psychology Program at WJC and is a trainee at the Massachusetts College of Pharmacy and Health Sciences.
Beverly's primary focus is on expanding her knowledge about clinical psychology, specifically cultural competence in psychological practice. One of her goals is to promote awareness of the roles of mentors in every part of one's journey—academic, professional and personal. She believes that mentoring promotes a sense of belonging and community in any environment, especially if considered a minority member.
Beverly stated,
"I am living proof that mentorship is needed for the underserved because I would not be where I am in life without it. From my 5th grade teacher who promoted self-love and humility in our classroom to the professor who always had time to check in about my experiences as a Nigerian Black woman in a predominantly-white institution These experiences may not be readily available to people who identify as being a member of a marginalized group… Working with youth in the community is a great way to continue to plant the seed [of mentorship] for purposes of professional representation and fostering a sense of normalcy in individuals who intentionally seek valuable mentors throughout their lives. [As a CMGMH Fellow] I will continue to work in the community to empower and appreciate the strengths of people who are typically underserved and share resources that promote holistic wellness."
As a Scholar in the Black Mental Health Graduate Academy and a member of ALANAA at WJC, Beverly is part of a community of professionals who are committed to advocating for diversity and learning about various cultural groups in order to dismantle historical narratives that have proven to be false. Her priority is to be an active change agent for individuals in marginalized communities. In doing so, she will continue to hold hope that these repeated actions will contribute to a larger disruption of systemic disadvantages in this society.