2018-2019: Christopher Rosales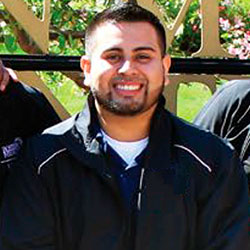 Christopher Rosales
2018-2019: Underserved Scholarship Awardee
School Psychology MA/CAGS
Personal Statement
"Do not let other people dictate who you can become. Life circumstances can influence the person you become. Be you, as I am becoming me."
Christopher Rosales is a first generation Central AmericanAmerican. His mother migrated to the U.S. from Guatemala and his father migrated from El Salvador. His parents' hard work and dedication led Chris to reach several milestones. He graduated from North Shore Community College then attended Springfield College where he graduated Summa Cum Laude within two years with a bachelor's degree in Human Services.
For five years, Chris served as the director of an afterschool program for a local public school. He was also a family support advocate at Boston Medical Center's Violence Intervention Advocacy Program. Chris has been involved with various organizations in Boston, including the Louis D. Brown Peace Institute's Homicide Providers Group, Suffolk County Sheriff's Department for Family Matters Consortium, and Boston Police Department's Shannon Grant Providers Group.
When asked about an accomplishment of which he is most proud, Chris stated,
"I have always been praised for my ability to handle 'troubled' students and manage problems in the classroom. One accomplishment that I am most proud of is being able to move into a director's position within a relatively short period of time in a program for underserved youth. While I only had a high school diploma, I was able to demonstrate that I had the leadership skills to run my own program. I began working as a group leader and was promoted to assistant director. In my third year, I became the director of the school that housed a Learning Adaptive Behavior (LAB) Program. The LAB Program, which used a social-emotional curriculum, was for students with a chronic history of school suspensions. It was this position that ultimately led me to seek a career in mental health with a focus on traumatized youth."
During his time at William James College, Chris hopes to continue to volunteer at community-based organizations. Following his graduate studies, his goal is to return to the field of community violence and work in a public school setting. He plans to provide mental health services to youth and families of color who have been impacted by community violence and have limited access to resources.