2017-2018: Darryl Sweeper, Jr.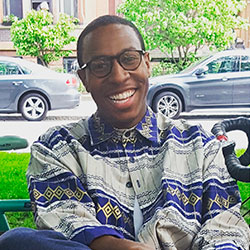 Darryl Sweeper, Jr.
2017-2018: Underserved Scholarship Awardee
Clinical Psychology PsyD
Clinical Mental Health Counseling MA
Expressive Arts Therapy Concentration
African and Caribbean Mental Health Concentration
Favorite Quote
"Not everything that is faced can be changed, but nothing can be changed until it is faced." — James Baldwin
Darryl is currently an Advanced Standing doctoral student in the Clinical Psychology Program at William James College. He received his Master's degree in Clinical Mental Health Counseling with emphases in Expressive Arts Therapy and African and Caribbean Mental Health at WJC.
Darryl has worked for non-profit mental health organizations in Reading and Lebanon, Pennsylvania; and state-funded community health centers and higher education in Boston and Fall River, Massachusetts. He has participated in international service learning programs in Thika, Kenya and Petit-Goâve, Haiti. To complement his clinical training at WJC, Darryl is currently enrolled in a certificate program to become a certified poetry therapist with the International Federation of Biblio/ Poetry Therapy. His research and clinical interests include topics related to diversity, especially prejudice and stereotyping towards racial/ethnic/sexual minorities, positive youth development, global mental health, co-morbid mental illnesses in people of color, and the role of creative arts in medicine.
Darryl believes that the Serving the Underserved Scholarship speaks to the efforts of numerous WJC students, professors, and mentors who, through the sharing of their wisdom and tutelage, have created a space within the WJC community and in the larger society for social change, acceptance, and advocacy for those who are from different backgrounds. Darryl stated,
"The creation of this scholarship symbolizes WJC's commitment and responsiveness to the overwhelming mental health needs of underserved populations; and recognizes future psychologists and counselors for their valiant, persistent, and diverse efforts to reduce the burden of disparities that impact so many lives. I hope this scholarship will bring forward those who are both powerful in voice and action to be seen and cherished while inspiring incoming and younger students to join the cause in creating an epidemic of good health. To be among the first cohort of award recipients is a tremendous honor."
Darryl's long-term goals include working in a behavioral medicine, hospital or integrated health care setting; conducting research on co-morbid illnesses and expressive arts in medicine; and doing international work and research in the Caribbean and Africa to understand the many conceptualizations of mental health and address health inequities. During his time at WJC, Darryl plans to collaborate with the PATHWAYS Program to help advocate for and address the mental health needs of youth in urban communities. Darryl would like to create an expressive arts group for young boys of color in urban communities, with a focus on empowerment and positive identity formation.