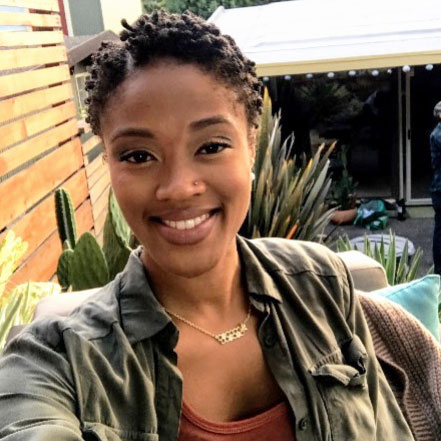 Delora Sutton
2021-2022: Underserved Scholarship Awardee
Clinical Psychology PsyD
Forensic Psychology Concentration
African and Caribbean Mental Health Concentration
Favorite Quote
"Everyone you meet is fighting a battle you know nothing about. Be kind. Always." —Robin Williams
Delora is an African American woman, originally from Raleigh, North Carolina. She received her Bachelor of Arts in Pre-Dance Therapy from Meredith College. She created this degree to combine two subjects that she was passionate about, Psychology and Dance. Delora went on to complete her Master of Arts in Dance/Movement Therapy and Counseling from Antioch University New England. She is a Registered Dance/Movement Therapist whose career started as an Intensive In-Home Qualified Professional at The Aya Center, developing and implementing home based behavioral interventions with at risk youth and their families. In this position, Delora also administered a battery of psychological testing, including IQ testing to determine eligibility for IEPs in children and testing to identify disabilities in adults.
Most recently, Delora worked as a Dance/Movement Therapist in a forensic setting at Napa State Hospital, with patients found mentally incompetent to stand trial. During her time as a Dance/Movement Therapist at Napa State Hospital, Delora's commitment and willingness to speak on racial and social justice matters within the hospital setting allowed her the privilege to be recommended to represent her hospital for a statewide Racial Justice and Equity committee.
Delora's research interests include addressing the stigma around mental health services and Black Christian churches. She wants to continue advocating for mental health services to underserved communities as well as individuals involved in the criminal justice system. With the goal to become a culturally humble clinician who affects change in communities of color, Delora will work to become involved in policy work, actively improving pre-employment psychological evaluations and fitness for duty evaluations for police officers.
Delora is proud that she is raising her daughter to be a smart, thoughtful, individual who wants to help others. An interesting fact about her background is that all her degrees have been from different schools in different states. In her free time, Delora loves to dance and eat.
Delora says about being a recipient of the Serving the Underserved Scholarship:
"It is an honor and a privilege to have been awarded such a prestigious award. This award lets me know that I am on the right path in my desire of making a difference in underserved communities."