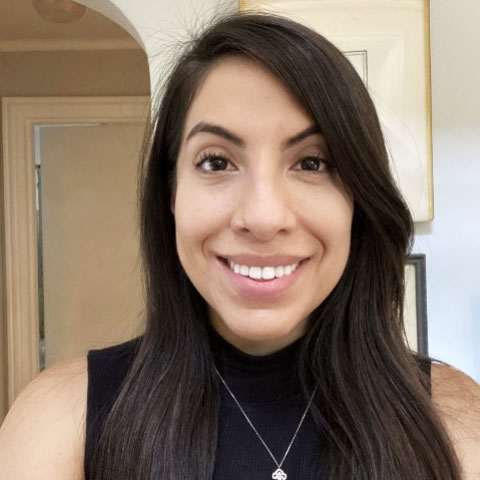 Denisse Ochoa
2021-2022: Underserved Scholarship Awardee
Clinical Psychology PsyD
Children and Families of Adversity and Resilience Concentration
Neuropsychology Concentration
Favorite Quote
"The quest for love changes us. There is no seeker among those who search for love who has not matured on the way. The moment you start looking for love, you start to change within and without." —Shams Tabrizi, The Forty Rules of Love
Denisse is a queer, cis-gender, Spanish-speaking, white, Latinx woman from Brooklyn, New York. She is a professional counselor and earned her master's degree from Penn State University. Denisse is currently a first-year Clinical Psychology doctoral student at WJC. Prior to pursuing her doctoral degree, she served as a School Clinician providing individual and group therapy for several years before changing course to live abroad in Palestine, where she worked as an English Teacher. Much of her clinical experience has focused children and adolescents in low-income BIPOC communities.
Denisse is an active member of the National Latinx Psychological Association's Student Committee, APA's Graduate Student Committee for the Advancement of Racial and Ethnic Diversity mentoring program, and the Latino Mental Health concentration at WJC. Denisse believes that there is not enough transparency about the racism that occurs in our own BIPOC communities, and is passionate about expanding consciousness in this area.
Denisse is interested in improving psychology's practice towards underrepresented and diverse populations, including serving refugees and asylum seekers. Additionally, Denisse is passionate about the recruitment and retention of BIPOC students in higher education. She looks forward to continuing engaging in trainings that advocate for underserved populations as well as participating in community service events, volunteer, and service-learning opportunities at WJC.
Ultimately, Denisse dreams of opening a community center to provide free and low-cost mental health services to underserved populations in overlooked locations.
In addition to being fluent in English and Spanish, Denisse is currently learning Arabic. Her favorite self-care activity is going on discovery trips with her rescue dog, Sadie.
Denisse shares about being a recipient of the Serving the Underserved Scholarship,
"It feels validating to know that my work is valued by people in power. It feels reinforcing to know that there are people out there who actually put their money where their mouth is and support the development of underserved populations. I am honored. I am thankful. I am "an underserved" population that gets the opportunity to excel in higher education thanks to funding like this scholarship. Thank you for opening this door for me, I literally would not be here today if it had not been the case."