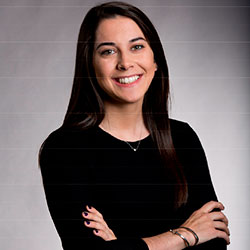 Emily Crain
2018-2019: Underserved Scholarship Awardee
Clinical Psychology PsyD
Favorite Saying
"Nada te turbe, nada te espante, todo se pasa." (Let nothing trouble you, let nothing frighten you, all will pass.)
Emily is a first-year student in the Clinical Psychology Program at William James College. She graduated from the University of Massachusetts Amherst with a bachelor's degree in Psychology and Women, Gender, and Sexuality Studies. While a student at UMass Amherst, Emily served as a Clinical Intern at the Veterans Administration and Hampshire County House of Corrections. She also conducted research in the Rudd Adoption Research lab, exploring the impacts of microaggression and resiliency on children adopted by sexual minority couples. Emily has worked as a Research Assistant at Boston Children's Hospital and the Wellesley Centers for Women. Most recently, she was employed with the Department of Corrections where she provided clinical support to individuals in a maximum security prison. Specifically, she worked with individuals transitioning from long-term segregation back to the general population of inmates.
While a student at UMass Amherst, Emily served in a leadership role for a religious organization on campus where there was a lack of visible support for LGBTQ individuals who were seeking acceptance. Through her activism and support from administrators who were equally passionate about the needs of LGBTQ students, Emily started the first initiative to provide religious and spiritual resources to the LGBTQ community. She successfully implemented various outreach programs, identified LGBTQ-friendly clergy, and started a dialogue on campus about spiritual inclusivity and the queer community.
Emily currently volunteers for Inner City Weightlifting, an organization whose mission is to "reduce youth violence by connecting high impact youth with new networks and opportunities, including meaningful career tracks in and beyond personal training". During her graduate studies at WJC, Emily plans to continue her involvement in social justice initiatives and participate in the Social Justice Student Coalition.
With regards to her long-term professional goals, Emily is invested in exploring the intersection of psychology and law, and supporting policy initiatives that create systemic changes around mental health care and at-risk populations. Emily is particularly interested in continuing to work with incarcerated individuals and other marginalized communities. Her Puerto Rican and Irish heritage has elicited a strong interest in Latino Mental Health. Emily hopes to build strong connections with colleagues in the field and continue her education and training in a post-doctoral specialization.