2019-2020: Frances Mathieu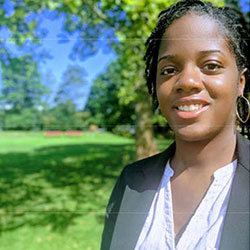 Frances Mathieu
2019-2020: Underserved Scholarship Awardee
Leadership Psychology PsyD
Leading Non-Profits and NGOs Concentration
African and Caribbean Mental Health Concentration
Favorite Quote
"A ship in a harbor is safe but that's not what ships are built for." — Anonymous
As a first-generation, Haitian-American woman raised in the inner city, Frances has become an ardent advocate for serving marginalized communities with compassion and dignity. She received her Bachelor of Arts degree in Psychology with minors in Sociology and International Studies from St. John's University. Upon completing her undergraduate studies, she pursued a Master of Social Work degree at Clark Atlanta University where her research focused on depression and acculturation among first-generation Haitian Americans.
Frances is bilingual in English and Haitian Creole. Her areas of expertise are in the fields of substance abuse and Applied Behavior Analysis. She is currently employed as the Developmental Service Coordinator at the North Suffolk Mental Health Association.
Frances has worked as a Drug Addition Counselor at Health Care Resource Center in Chelsea and as an Applied Behavior Therapist at Ubuntu Autism Consultants in Worcester. As the Chief Marketing Officer on the executive board of For the Culture Media, she ensures that the organization meets its primary mission: To inform, inspire, and engage urban millennials through curating content and social events. Frances has volunteered for local, regional and national organizations, including Project Wee Savers, March of Dimes, Relay for Life, Breast Cancer Walk, New YorkCares, and Hosea Feeds The Hungry. She is an active member of Alpha Epsilon Honors Society, Alpha Kappa Mu Honors Society, the African American Social Work Association, and the National Association of Social Workers.
When asked about her favorite hobby or self-care activity, Frances replied, "I love to play basketball and hangout with my family."
During her graduate training at William James College, Frances plans to become actively engaged in professional development activities and seek other learning opportunities such as international immersion experiences. She looks forward to applying the skills and knowledge that she will be acquiring at WJC to her current position as a Developmental Service Coordinator.
Frances also plans to focus her studies on organizational change management within nonprofit agencies. She will be joining the concentrations in Leading Non-Profits and NGOs and African and Caribbean Mental Health. Following the completion of her doctoral studies, Frances will work with historically disempowered employees to enhance their awareness of the impacts of culture and mental health on their work performance and productivity.