2019-2020: Jennifer Cotard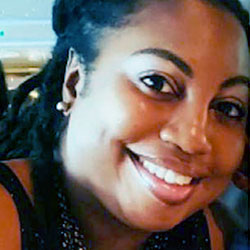 Jennifer Cotard
2019-2020: Underserved Scholarship Awardee
Clinical Mental Health Counseling MA,
Couples and Family Therapy Area of Emphasis
Favorite Quote
"Every next level of your life will demand a different you."— Unknown
A native of Canton, Massachusetts, Jennifer is the youngest of three siblings and the mother of two boys. She grew up in a loving household where Haitian traditions and strong Christian values were instilled in her by her parents. After graduating high school, Jennifer obtained a Bachelor of Arts degree in English at Pine Manor College. For three years, she taught at City on a Hill Public Charter School where she worked with children with learning disabilities. Navigating through the Boston Public Schools systems fueled her desire to serve children and families from historically marginalized backgrounds.
Her Caribbean and Latin heritage further enhanced her passion for supporting families who struggle with mental illness. Currently, Jennifer is an Intensive Care Coordinator at Children's Services of Roxbury. She has also worked as a Home-Based Specialist in the Early Head Start Program at the Dimock Center. She is a Pediatric and Family Advisory Board Member at Boston Medical Center.
Jennifer has a love for learning and exploring, and is fluent in four languages. During her graduate studies at William James College, she plans to continue to support and advocate on behalf of families affected by mental illness. She will complete an Area of Emphasis in Couples and Family Therapy through the Clinical Mental Health Counseling Program. One of her long-term goals is to lead an agency that serves immigrant individuals and families who are in need of social-emotional support and clinical services.