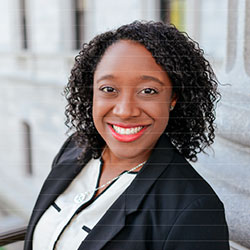 Jessica Sharp
2018-2019: Underserved Scholarship Awardee
Leadership Psychology PsyD
Favorite Quote
"Unless someone like you cares a whole awful lot, nothing is going to get better. It's not." — The Lorax
Jessica Sharp is the Director of Volunteer Services at Meals on Wheels Greenville, which delivers meals to homebound individuals in Greenville County. She oversees the volunteer management strategy and volunteer services team. She has prior work experience at Greenville Health System and the YMCA of Greenville in South Carolina. Jessica is the Founder and Chief Educator of Sharp Brain Consulting, which works with public service agencies to provide education about the brain and its effects on organizational outcomes.
Jessica is dedicated to advancing the rights of underserved individuals and communities. After earning a marketing degree from the University of South Carolina, she pursued her passion through Teach for America—an organization that places recent graduates in classrooms in underserved communities. Jessica also has a Master's degree in Public Affairs from the University of Missouri.
Jessica is the Chair of the Greenville Chamber's Pulse, a program for young professionals, the United Way's YP20 Steering Council, and JL Mann High School's School Improvement Council. She is an active member of the Junior League of Greenville. Jessica has previously held leadership roles with LeadHER Greenville, the Urban League's Upstate Network, and Better Business Bureau of the Upstate. She is a graduate of Leadership Greenville and is a Diversity Fellow with the Riley Institute.
Jessica has been named a Rising Star through the Association of Junior Leagues International, one of Greenville's Best and Brightest under 35, and a Talented Tenth Top 10 Young Professionals. She has been recognized in the NextGen section of the Upstate Business Black Box magazine. Jessica volunteers with the YMCA of Greenville and A Child's Haven. Jessica regularly speaks about various topics related to diversity, inclusion and the brain; and is an active blogger for GenTwenty, a website for millennial women.
During her time at WJC, Jessica plans to expand her knowledge of topics related to inclusion, intellectual disabilities, social justice, the intersection of poverty and education, and the criminal justice system and its impacts on people of color. She will continue to engage in community service, volunteering, public speaking/workshop facilitation, and donating to nonprofit organizations.