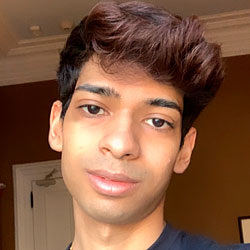 Kevin Narine
2020-2021: Underserved Scholarship Awardee
Clinical Psychology PsyD
Favorite Quote
"When you are kind to others, it not only changes you, it changes the world."— Harold Kushner
Kevin Narine (pronouns: he/him/his) was born in Wakenaam, Guyana, and immigrated to Bronx, New York in 2003. He received his Bachelor's degree in psychology with a minor in Gender, Sexuality & Women's Studies from the University of Pennsylvania in 2018. During his undergraduate tenure, he advocated for mental health resources for minority students as co-chair of Penn Initiative for Minority Mental Health and spearheaded a charity to support suicide prevention workshops in Guyana.
Kevin also served as a post-baccalaureate research assistant at the Center for the Treatment and Study of Anxiety at the University of Pennsylvania, where he assisted in studies examining suicide risk in people living with HIV, repetitive negative thinking, and mechanisms and treatments for anxiety. Additionally, he served as a project coordinator to disseminate and implement Prolonged Exposure therapy for PTSD in low-income, underserved communities in Philadelphia.
Deeply impassioned to advance culturally responsive advocacy and services for LGBTQ+ individuals in his community, Kevin distributed LGBTQ+ suicide prevention resources for the American Foundation for Suicide Prevention, assisted clients with identifying affirmative healthcare providers for the Penn Medicine LGBT Program, and served as the web-manager for the Gender and Sexual Minority Special Interest Group in the Association for Behavioral and Cognitive Therapies. He actively volunteers for an LGBTQ+ helpline to provide equitable access to resources for LGBTQ+ racial minorities by listening and validating their concerns, providing referrals, and promoting wellness. His research and clinical interests include implementing suicide prevention services and developing affirmative, evidence-based treatments for trauma and anxiety-related disorders in culturally diverse communities.
While at William James College, Kevin plans to provide services to underserved communities, including forming local support groups for LGBTQ+ clients and getting involved in the Guyana Service Learning & Cultural Immersion Program. He will conduct research on marginalized subgroups within the LGBTQ+ community (e.g., racial/ethnic minorities). In addition, he hopes to advocate for the inclusion of cultural considerations in the syllabi of coursework and take part in the nascent LGBTQ+ concentration at WJC. His long-term professional goal is to create and implement effective treatments for anxiety and trauma-related disorders in underserved populations. He aims to someday be an educator in an academic setting who teaches subjects related to these disorders.