2019-2020: Melanie Robinson-Findlay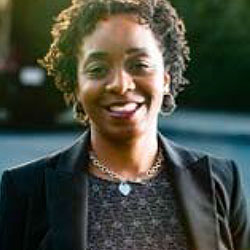 Melanie Robinson-Findlay
2019-2020: Underserved Scholarship Awardee
Executive Coaching Graduate Certificate
Favorite Quote
"We must wake up knowing we have work to do and go to bed knowing we have done it." —Andre Lorde
Melanie was born in Bristol, England to Jamaican parents. She received a Bachelor of Science degree in Psychology from Northeastern University and a Master's degree in Social Work from Boston College. She is an alum of the Graduate Certificate in Executive Coaching Program at William James College. Melanie's career has been dedicated to creating space for the seemingly unseen and unheard populations with whom she has worked.
She is a Licensed Independent Clinical Social Worker whose ten-year social work career began with her working in a correctional facility where she served as a Mental Health clinician, the Mental Health Director, and the Director of Social Services. She also worked as a fee-for-service Behavioral Health Clinician at Codman Square Health Center where she provided individual and group therapy. Most recently, she served as a clinical social worker in the Boston Juvenile Court Clinic, completing court-ordered evaluations for youth and families.
Melanie was appointed to the Board of Registration of Social Workers by Governor Baker and currently serves as the Chair. She is an Adjunct Professor in the School of Social Work at Boston College and Simmons University, and is on the advisory board of the City of Boston's Office of Returning Citizens. When asked about the importance of being awarded a Serving the Underserved Scholarship, Melanie reflected:
"It is humbling to be a recipient of the Serving the Underserved Scholarship. Working with populations that are not valued due to their social location is a privilege many people have robbed themselves of but one that I have had the honor of pursuing. Being recognized for my commitment demonstrates William James College's commitment to not only fostering well rounded practitioners but also to making room for everyone at the table."
Melanie's research interests include psychological and neuropsychological testing. She is interested in exploring how culture affects not just the testing results but the individual experience of both the evaluator and those being evaluated. While at WJC, she plans to remain a champion for individuals and families who are involved in the criminal justice system. Her long-term professional goals involve reforming mental health services in correctional facilities and highlighting the importance of embracing inclusion while truly addressing difference as opposed to just narrowly endorsing the concept of diversity.