2019-2020: Paulina Prieto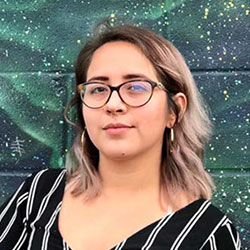 Paulina Prieto
2019-2020: Underserved Scholarship Awardee
Clinical Psychology PsyD
Favorite Quote
"Feet, what do I need you for when I have wings to fly?" —Frida Kahlo
Paulina was born and raised in Guayaquil, Ecuador. She earned a Bachelor of Arts degree in Psychology from Universidad de Especiales Espíritu Santo in Ecuador. In 2017, she moved to the U.S. to pursue her dreams of becoming a Clinical Psychologist.
Paulina's passion for mental health began in high school when she volunteered at a School for the Deaf where she created a natural social-recreational environment for primary school aged children to help them transition to a non-special needs school setting. Since then, she has continued to strive to dedicate her life to helping others.
Paulina has volunteered at the Institute of Neuroscience in Guayaquil where she administered a music therapy program for patients, and at the Fundación Cecilia Rivadeneira where she provided emotional health tools and skills to families as well as organized social-recreational activities for children who were diagnosed with cancer. Some of Paulina's most memorable experiences have been during her time working with people with chronic and severe mental illnesses.
As a recent immigrant to the United States, Paulina has a special commitment to promoting awareness of the links between migration and mental health. She plans to use her knowledge and personal experiences to advocate for individuals who are coping with acculturative stress and other migration-related challenges. Being bilingual has also influenced how Paulina views the impact of language on an individual's psyche and daily functioning.
When asked to reflect on the importance of being awarded the Serving the Underserved Scholarship, Paulina remarked,
"I never thought that doing something that I enjoy and that gives me such personal reward—i.e., helping others—would lead to this great honor. Honestly, I don't have the proper words to describe the happiness that I feel. All those years of hard work have led to an outcome that I never saw coming. I am grateful and ready to keep working hard, have a positive impact, and make a significant difference in the world."
During her tenure at WJC, Paulina plans to continue volunteering and pursuing activities that will foster her professional growth. She will also join the Concentration in Latino Mental Health. One of her long-term goals is to enhance her clinical skills to work with chronically-ill patients in inpatient settings. As she remains open to future opportunities, Paulina dreams of opening a clinic in her native Ecuador.