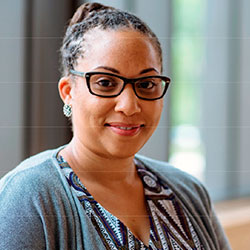 Regina Banks
2018-2029: Underserved Scholarship Awardee
School Psychology PsyD
Favorite Quote
"As long as we are not ourselves, we will try to be what other people are." — Malidoma Patrice Som
A native of Fresno, California, Regina is the oldest of six girls, a wife, and the mother of two children under the ages of two. She obtained a Bachelor of Arts degree with a teaching emphasis from Fresno Pacific University. After working in education for several years, Regina attended Washington University in St. Louis where she received a Master of Social Work degree with an emphasis in Race, Socioeconomics, and Mental Health. Upon completing graduate school, she taught at Clovis Community College and Fresno Pacific University.
The daughter of a former minister with the African Methodist Episcopal Zion Church, Regina is a member of the same denomination where she is currently involved in its mission to meet the mental health needs of African Americans and decrease the stigma linked to service utilization under the Western Episcopal District and California Conference's Mental Health Awareness Initiative.
Regina Banks School Psychology, PsyD www.williamjames.edu/cmgmh cmgmh@williamjames.edu As a recently appointed member of the initiative's Implementation Team, Regina works to support churches in their capacity to provide mental health screenings and referrals to church members and individuals in the community.
Regina has served as a Member of the AmeriCorps State and National Program for three years (2011-2014). Her first year of service was at Central Valley Health Network in Fresno, California where she was a community outreach worker who provided outreach and health education to ethnically diverse populations. Her final two years of service were completed at Boston Health Care for the Homeless Program where she worked with the Behavioral Health Team as a case manager to provide outreach, screening, and health education services to homeless men, women and families.
Regina also served as a Fellow under the Substance Abuse and Mental Health Services Administration's (SAMHSA) Minority Fellowship Program. This program was focused on supporting the professional development of rising social work students in their capacity to serve the mental health needs of children and youth from ethnically diverse backgrounds.
During her graduate studies at WJC, Regina intends to continue her involvement in community service, which she describes as "my personal obligation as a person who benefited from the investment of others." This includes becoming an active member of the Boston branch NAACP and joining student organizations at WJC.
When asked about the importance of receiving a Serving the Underserved Scholarship, Regina reflected,
"Having been awarded this scholarship will defray the cost of an education I never thought I would be able to attain. As a person from an economically disadvantaged background, this scholarship will allow me to focus solely on my studies, without the burden of also working full-time. This is invaluable to me as a wife and mother of two babies. More importantly, I am honored to receive this award and will endeavor to fulfill its mission in becoming an agent of change and social justice in the mental health field."
Regina's research interests are in school psychology, particularly on the experiences of microaggression among African American students enrolled in predominantly white schools. Her primary goals are to increase her knowledge of evidence-based school psychology assessment, intervention, and consultation; and to enhance her capacity to provide culturally competent services to persons of color. Following her graduation from WJC, Regina hopes to serve as a school psychologist with the Boston Public Schools. Later, she plans to join Allay Psychological Services, which is a private practice owned by her sister who is a licensed clinical psychologist. In that capacity, Regina will provide services to students who historically have been underserved by the public school system.